Ready Ore Not, Here He Comes
California Lutheran University's swim team witnessed a star athlete being born two weeks ago at the Southern California Intercollegiate Athletic Conference championships held at Whittier College.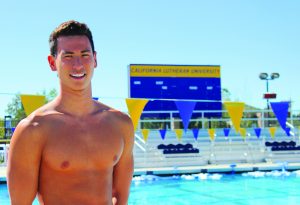 Ore Wahnishe transferred last fall as a junior from Moorpark College and has made quite a name for himself at Cal Lutheran, breaking six of the 16 school records that were broken at the SCIAC championships and even some of his own personal records from his first swim season here on campus.
Wahnishe, born in Israel, was swimming as early as five years old.
"I think my parents put me in the pool because it was a sport where I wouldn't get injured," Wahnishe said.
Wahnishe swam the next four years in Israel and at nine years old he and his family moved to the U.S.
Upon arrival, Wahnishe took a break from swimming to pursue karate for the next three years.
It wasn't until the summer of 2004 Wahnishe began to think about swimming again.
"I think the reason I started swimming back up here was because of the 2004 Olympics when I saw Michael Phelps, and that just kind of motivated me to try it again," Wahnishe said.
At 13 years old Wahnishe joined the Conejo Simi Swim Club.
When Wahnishe started at Oak Park High School, he continued to swim at Conejo Simi Swim Club year-round because Oak Park did not have a swim team.
Wahnishe began his college education at Arizona State University on a swim scholarship. However, due to personal reasons he left ASU and transferred to Moorpark College while continuing to swim.
Wahnishe was accepted to Cal Lutheran and the University of California, Santa Barbara, yet chose to go to Cal Lutheran because he wanted to major in business and be close to home.
Wahnishe began showing up to swim practice regularly with determination.
"It's been a lot different than what I was used to, especially the training aspect of it," Wahnishe said. "[Coach] Dodd has a different philosophy towards swimming and practice than what my club coach had, but it's been a lot fun and the team has been great. We've all been training super hard."
Junior team captain Philip Anderson noticed a smooth transition for Wahnishe joining the Cal Lutheran team.
"Coming in he's really integrated well with the team. He fits in really well with the rest of the guys on the team, and I think that helps the whole team dynamic. So I think he's definitely an integral part of that," Anderson said.
The SCIAC championships began Feb. 19 with Wahnishe leading off the 800-meters freestyle relay competition where he and three other swimmers broke the school record time at 6:53.61.
The next day Wahnishe competed in the 50-meters individual freestyle race, breaking not only the school record time at 20.92, but also his own personal record.
"It was actually kind of a big deal for me," Wahnishe said. "Because I've been stuck on 21 seconds for four years, and I was finally able to break 21 and go 20.9, so that was one of my most exciting races."
Head coach Tom Dodd said he has been thrilled having Wahnishe as part of the team.
"I knew he had a lot of potential, and I don't think we've tapped into it all the way yet, but I think we will by next year," Dodd said.
Wahnishe went on to break four more school records. He swam a 200-meter freestyle relay race with three other swimmers breaking his personal record and the school record with his teammates at 1:24.30.
On Feb. 21 he swam an individual 100-meter butterfly and broke the school record at 50.49. On the final day of the championships, he swam the 100-meter freestyle individual race breaking the school record at 45.97.
He finished the night swimming the 400-meter freestyle relay, breaking the school record with his teammates once again at 3:05.65.
"My teammates and I were really pumped for that. The record was on the line as well," Wahnishe said. "I led off the relay and got a school record for my individual race, and as a team, we were able to break the school record for the relay."
Anderson said he  holds Wahnishe in high regards for his athletic ability.
"He's the goal for everyone. We want to be up to par with him, we want to try and compete at the same level he is," Anderson said. "Ore is always positive in the pool and he's always trying his hardest in his meets and his practices. He's someone that I think a lot of people look up to."
Wahnishe said this has probably been the most fun he's had on a swim team in quite awhile because of the team dynamic with everyone getting along with each other. Dodd attributes much of their success to this reason as well.
"We had some really good people in the past over the years so for them to come up and break all the records, it lets you know how supportive the team environment was for them to do that, and how much they cared about each other, and so they were able to build on that and keep going," Dodd said.
Dodd said Wahnishe is very sincere with the other teammates. He's the first guy to shake somebody's hand that didn't make finals or didn't do as well as he may have.
"It's not an act," Dodd said.
Wahnishe is confident next year will be an even better season.
"As a team, I think mine and our main goal is to place top three at conference and get as many guys as we can to NCAAs, which I think is definitely possible next year," Wahnishe said.
Daniela Abravaya
Staff Writer
Published March 4th, 2015