On April 18, California Lutheran University was the host of a special event at Buth Park for the students at Cal Lutheran and throughout the Thousand Oaks community.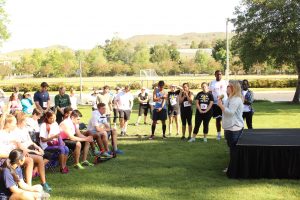 The event was called the Run to Save Innocence, a 5k run throughout the campus to raise awareness about the fight of innocent people being abused in the community and world today.
"This event started as both a fundraiser and awareness event. We wanted to bring people in that weren't already aware of sex trafficking in the United States," said Annika Stenfjord, student at Cal Lutheran and event coordinator for the event. "We also wanted all the funds to go to Save Innocence which is a non-profit that fights sex trafficking in Los Angeles and the greater LA County. "
Sarah Elander, the case manager for the organization, attended the event and was very surprised by the turnout, since not a lot of people know about the organization.
"Having events like this for such a small agency in Saving Innocence raises a lot of awareness. It is incredible that all of these people came out to pay to run for an agency they probably don't know a whole lot about. It is incredible to see a generation of college students coming up behind something with a cause that is so affecting the next generation. We are here to support it any way that we can," Elander said.
Elander also weighed in on her agency and what it was all about.
"We are a 501c3 that is contracted with county departments, so the department of child family services, probation, law enforcement, so we do a lot of preventative care for raising awareness for children who have been exploited.   All of our clients have been commercially sexually exploited and the term is seasect," Elander said.
Since Stenfjord is a Resident Assistant on the Cal Lutheran campus, she is required to do two programs every month. This turned out to be a successful one according to Stenfjord.
"This turned out to be a big program. I also volunteer for Saving Innocence doing graphic design work and doing events with them, so it kind of made sense to combine the two," Stenfjord said.
In addition to Stenfjord holding this event for the first time, this was also the first time the organization has done a 5k event.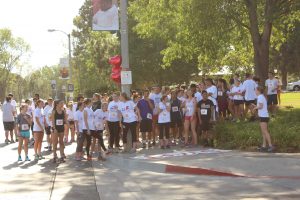 "This was the first time we  [had] done a 5k. This was totally created by Annika and we're here to support her because she is amazing, but this is all her idea.  We take no credit for putting this on but we have interns through UCLA and USC that we work with but this is the first student-led effort that has been such a huge success," Elander said.
The event seemed to catch community and alumni attention as well being that there were so many people that didn't even attend Cal Lutheran.
"The run went pretty well. I wish I ran a little bit faster but overall it was [a] fun 5k to get everyone out here to support a good cause. I knew it was about saving innocence which is about sex trafficking, but other than that I didn't know too much, but they had a guest speaker who explained. It seemed like a good cause and I was happy to contribute in any way I could," Cal Lutheran alumnus Joshua Dwyer said.
Because the event was such a success, Stenfjord said she would love to continue running this event for years to come while she's here at Cal Lutheran since she is only a sophomore.
"I totally want to continue this if we can get people to rally around this," Stenfjord said. "We had some problems starting up the process this year, so next year being able to smooth those out and getting people started earlier and knowing about the event before would just be really awesome."
Randall Shumpert
Staff Writer
Published April 22nd, 2015