La Vie en French Culture at CLU
Crepes, moustaches, Eiffel Towers and caricatures, the California Lutheran University French Club had it all at their Francofolie French Culture event.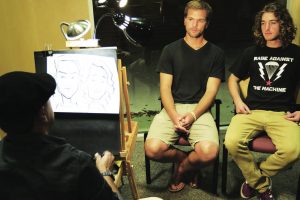 Their event on April 23 included several aspects of the French culture put into games and activities participants could enjoy. Accompanying the activities, was a crepe truck that provided food.
According to Diana Garcia, the event had more than 140 people in attendance, with many of the attendees being students and community members.
"[At the event there were] very little kids here, and I don't remember little kids last year. I see some older people too, so it's more diverse than it was last year," said Karen Renick, co-adviser of the French Club and French professor at Cal Lutheran.
Many of the participants, both students and community members took part in the activities that were set up. There was a "make your own moustache" table, Francofolie or French-speaking monument quiz booth, French Jeapordy station, "build your own Eiffel Tower" table, toss the crepe game, famous French people quiz, French word quiz and a caricature artist.
Many of the games are designed to either entertain or teach participants something about French culture that they did not know before. Ideally, they will leave knowing a new word or piece of French trivia.
"I think "toss the crepe" is a new one. It looks like everyone is really enjoying that," Lisa Loberg, co-adviser of the French Club said. "The tortilla is subbing for the crepe but that seems to be a good interactive one."
In addition to the crepe game, the caricaturist the French Club hired was extremely popular. There was a long line at his station with people waiting to have their caricature drawn.
People were also very excited about the moustache booth and the large Eiffel Tower print available for pictures.
"It's like a really big stereotype, but it's fun to see, whatever the age, people get excited about it," Garcia said.
Even with all the games and activities people were mainly there for the crepes. Participants had to play enough games to get six stamps on their "passport," which they got at check in. After getting the stamps, they traded the page in for a crepe of their choice.
There were several options to choose from including four cheese, chicken, banana Nutella, s'mores and berries and cream.
"I really like this crepe. This is my favorite part," said Hillary Wood, a Cal Lutheran student.
The event was also a fundraiser for Doctors Without Borders to help with medical aid in French-speaking countries, and the club charged a $2 entrance fee.
"I think it's one of the most important events we [the French club] have because it brings in so many people," Renick said.
It is the club's last event of the year and their biggest one.
"We save all our funds to have this as a big sha-bang," Garcia said.
The event turned out very well. Many students participated, but the large amount of community involvement really made the event.
"The community show-out is pretty awesome," Guy Lynott, vice president of the club said. "The first people who were here were all just like random people from the community, and it's really pretty cool."
Allie Leslie
Senior Writer
Published April 29th, 2015