Regals open SCIAC with win
The California Lutheran University women's soccer team earned its first official Southern California Intercollegiate Athletic Conference win on Sept. 16, when they overpowered the Chapman Panthers with a final score of 2-1.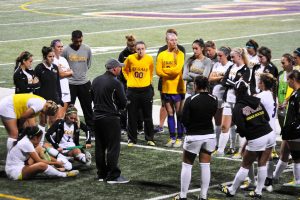 Following a 0-2 weekend in Washington, the Regals were looking to come out strong and to earn their first official conference win of the season.
Head coach Frank Marino said he didn't change any of his methods following the losses in Washington, but rather he concentrated on getting the season opening win.
"I think we just had to get back and start playing how we know how to play. I think we struggled a little bit in Washington more than we would've liked obviously, and I think it showed us some things we needed to work on too. Sometimes when you play better teams you learn from it, so I felt it exposed us in some ways and it's opened our eyes to some things that definitely needed to be worked on," Marino said.
In the first half the Regals came out strong, taking five shots before senior forward Raquel Weckhurst took a shot that found its way past the goalie on a pass from senior forward Bianca Deardorff, putting Cal Lutheran up 1-0.
Weckhurst, who was responsible for both of the Regals points of the night, credits her teammates with helping her score.
"I'm proud to play with such great athletes that are able to give me the opportunities and are working hard and giving me the opportunity to get goals like that," Weckhurst said.
The Regals were able to hold down their lead the entire first half, playing the majority of the time on Chapman's side of the field.
As the second half began the Panthers started things off with an aggressive move towards the goal, resulting in their first successful shot on goal, bringing the score to 1-1.
Less than a minute later, Weckhurst received a penalty kick following a foul in the box. She was able to connect on what would be the game-deciding goal, and the Regals won the game 2-1.
The Regals were able to hold off the Panthers for the remainder of the game, while senior defender Mallory Carcich showcased her senior leadership, as well as her desire to beat her opponent. She held down the defense and allowed Chapman zero shots on goal the entire game.
"Chapman was the game that we lost last year in the last game, and we lost 1-0, and because of that we didn't win SCIAC. So I think that really motivated us tonight because we wanted to show that we aren't that team that we ended off last year, because that was the first time we didn't win SCIAC in five years," Carcich said.
The Regals ended their first regular season game outshooting Chapman 19-4, earning five  corner kicks and limiting Chapman to zero, according to CLUsports.com
Starting the season off with a win was vital to Marino because he said he believes it will give the Regals a good starting point to the season.
"I'm happy to just get a win- start the conference with a win, right? So it was important for us to get the win and get off to a good start, so I was happy about that," Marino said.
On Sept. 19, the Regals traveled to University of Redlands, where they fell just short of beating the Bulldogs with a final score of 2-1.
According to CLUsports.com, freshman midfielder Emily Williams scored her first official goal as a Regal, while Weckhurst took five shots and Deardorff took five shots with three on goal.
The Regals now have a record of 1-1 in SCIAC play, and will continue their efforts on the road with a game at Occidental on Sept. 23.
Hailey Klemenok
Staff Writer
Published September 23rd, 2015