When the student is ready, Collins appears
Professor Brian Collins, who has a doctorate in philosophy and winner of the Outstanding Teaching Assistant Award and MAP-Works Champion for First-Year Student Success (Making Achievement Possible) from the University of Iowa, has joined the California Lutheran University faculty team.
A mid-west native, Collins entered college with an interest in psychology, but much like Cal Lutheran, philosophy was a required course he had to take at St. Olaf College where he attended school.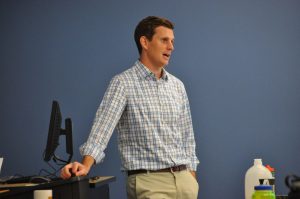 "I was just hooked by the questions they were asking," Collins said. "Specifically the first one I remember, 'how can we be sure of anything?'"
After obtaining his B.A., Collins moved to California and joined Teach for America—a nonprofit organization that recruits recent college graduates to teach in low-income communities. Collins received his Elementary and Middle School Teaching Certificate at California State University, Dominguez Hills. Collins developed a love for teaching while he taught math and science to junior high students for three years.
Collins returned to the mid-west to attend graduate school at the University of Iowa, where he received his M.A. and Ph.D. in philosophy. Collins had a particular interest and specialization in political science and ethics, writing his dissertation titled: "A Utilitarian Account of Political Obligation."
"Through my degrees I have realized that philosophy is much more applicable than I had previously thought," Collins said. "I see it as a discipline that is focused on honing certain skills, specifically critical-thinking skills. If philosophy is a discipline in honing skills, than it's a discipline that's applicable in every discipline. I can't think of any sort of career or job where you're not asked to think critically in some way."
An adviser to Collins on his dissertation was professor Richard Fumerton, a 41-year-teaching veteran in the subject of philosophy.
"Brian was always a delight to work with," Fumerton said in an email interview. "He has always been very disciplined. He loves philosophy and always listens to criticisms and objections, but he's equally willing to vigorously defend his views when he thinks he is right."
Upon completion of his graduate degree, Collins began teaching philosophy as a visiting assistant professor at the University of Iowa and as an adjunct professor at Iowa Wesleyan College. One course in particular was a meaning of life class, a course where Collins asked students questions like: "What's the meaning of life?" "Do we have meaning at all?" "Do we have to have a God?" "What if there is no God?"
Collins' passion for teaching and love for philosophy was quickly noticed at the University of Iowa because he had only been teaching for one school year before winning the Outstanding Teaching Assistant Award. Only 30 of these awards are given out annually.
"I felt amazing," Collins said.
Before joining Cal Lutheran Collins teamed up with Fumerton to devise a plan on how to get philosophy classes into high schools.
"For some time I have thought that high schools would benefit from offering their students philosophy courses," Fumerton said. "We called it Introduction to Philosophy Through Film.  The idea is to pair traditional philosophical readings with movies that raise some of the same themes. Because Brian is such an excellent and enthusiastic teacher, I immediately thought of him as the ideal partner."
After pitching the idea they ran a hybrid class for two public schools and one private school for two pilot years.
While Collins enjoyed his time teaching at the University of Iowa, he knew he could never retain a permanent teaching position because he did his undergraduate work there.
In his search for a teaching position, Collins applied for Cal Lutheran.
"Cal Lutheran was a highly prized place for me," Collins said. "I love how the liberal arts tradition forces you to study things you wouldn't study otherwise. I probably wouldn't have taken philosophy if I hadn't been forced to take it in the first place. I also think the Lutheran tradition is good in a higher level education setting because it is asking exactly what philosophy asks us to do, and that's think critically about our beliefs."
College of Arts and Science Dean Joan Griffin and Philosophy Department Chair Nathan Tierney were part of Collins' hiring committee.
"Dr. Collins is a highly gifted, highly trained, passionate teacher of philosophy who, I have no doubt, will contribute much to CLU," Tierney said. "Members of other departments, as well as administrators, have already expressed to me their pleasure at meeting him. I am sure his new students feel the same way. We are grateful to have him with us."
Collins said he's already highly impressed with the students' level of rigor and their desire to understand such dense material. Collins is currently teaching an Introduction to Philosophy course, a History of Philosophy course and an upper level course titled Contemporary Political Philosophy.
"When we hire faculty members, we hope that they will be here for 20, 30, sometimes even 40 years.  So he's the future," Griffin said in an email interview. "He brings a record of successful teaching…I think that students will enjoy his classes…and that his love of philosophy will be contagious."
When Collins isn't teaching, he can be found spending time with his wife and two kids. He has a passion for outdoor activities and discovered a love for surfing during his time in California.
Daniela Abravaya
Features Editor
Published September 30th, 2015