Zombies thrill in Kingsmen Park
Zombies danced in Kingsmen Park on Oct. 24 for a good cause and a chance to be in the Guinness Book of World Records. The "Thrill the World" event took place from 12- 4 p.m.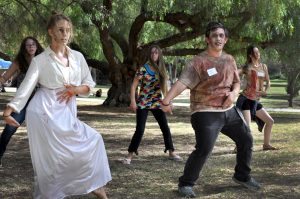 Barbara Wegher-Thompson put on California Lutheran University's second annual "Thrill the World" event, sponsored by the theater arts department in order to help raise money for the World Dance for Humanity organization.
Participants and spectators could get their face painted to look like a zombie by Cal Lutheran students and had the chance to learn Michael Jackson's dance to "Thriller."
The official "thrill time" was 3 p.m. which meant all the zombies reported to Cal Lutheran's zombie corral to perform "Thriller" with the rest of the world. The goal of the event is to be in the Guinness Book of World Records as the largest flash mob while simultaneously raising money for charity.
"The most important thing about the event is the humanitarian aspect. No matter what your background or your faith is you can come together and do something really wonderful for somebody else," Wegher-Thompson, a senior adjunct faculty member in theater arts department said.
"I just think it's a wonderful event and I think more people would enjoy it and I hope more people come each year to get out there and dance and support the cause," Denise McKee, a Moorpark resident who has participated in Cal Lutheran's "Thrill the World" for both years now, said.
This year it had 45 dancers participate in the event, three more than last year. People from the community brought their families and came out to watch the dancers perform and help support the cause.
"It's just fun and dancing, and great people, great teachers, great students, great school. I think it's a great place and I think the dance department is really wonderful here," McKee said.
Stacy Gross, a Cal Lutheran alumna and Zumba instructor, came to help Wegher-Thompson teach the dance and to participate in the worldwide event.
"It's just fun. It's a chance for people to come together and just dance and be creative," Gross said. "How often do you get to dress up as adults and dance and get into weird characters?"
"Thrill the World" started in 2006 in Toronto, Canada and has grown to include groups participating in the event from all over the world. In 2014 "Thrill the World's" website recorded there were 134 events in 22 countries on six continents.
"The phenomena of 'Thrill the World' is that everybody learns the same moves. Doesn't matter if you speak the same language, you can still jump in the dance and go along and have fun with it," Alexis Leona, a Los Angeles resident who has participated in "Thrill the World" since 2009 with the Los Angeles group, said.
Leona said she praised Cal Lutheran for sponsoring the event because it is difficult to find locations that will host "Thrill the World."
"Any chance you can use dance to bring people together I think is a good thing. I hope people have a good time and come back and bring more people next year so that we can celebrate together and support the charity," Gross said.
The charity, World Dance for Humanity, is based in Santa Barbara, California and was started by Janet Reineck. Wegher-Thompson contacted Reineck after hearing about "Thrill the World" from a student and wanted World Dance for Humanity to be the charity aspect of Cal Lutheran's event.
Last year Wegher-Thompson said they raised $208 and they hope to either match that again this year or surpass it.
Wegher-Thompson and Gross hope that the event will continue to grow every year.
Sarah Hernandez
Staff Writer
Published October 27th, 2015