Understanding ISIS ideology
On Oct. 19, California Lutheran University welcomed guest speaker Dr. Arya A. Amirie to further educate the community on the various aspects of today's Sunni Jihadist movement, known as the Islamic State.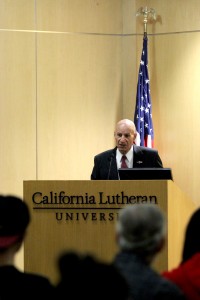 Amirie mentioned the key component in understanding the Islamic State is to know the history and ideology behind the modern-day terrorist organization.  Amirie explained the split between the Sunni and Shia Muslims beginning in the 7th century, but the tension between these two branches of Islam escalated more so in the past 200 years.
ISIS is strongly influenced by the teachings of 18th century Saudi scholar and radical spokesman, Muhammad ibn Abd al-Wahhab.  The Wahhabi movement and ISIS both follow an extremist interpretation of Islam and aim to "purify" Islam of all its flaws by executing the "infidels" and "nonbelievers," according to Amirie.
"Amirie provided so much insight about ISIS and how the sect came about.  We see so much modern day terrorism, but I didn't realize the extent of its history," said Claudiette Wright-Bey, a Graduate Program Specialist of the Masters in Public Policy and Administration Program at Cal Lutheran.  Wright-Bey also coordinated the Oct. 19 event.
Amirie revealed five strategies for the dissolution of ISIS.  The most critical component for the demise of the Islamic State is to resolve the sectarian conflict.  Then it is necessary to destroy propaganda, disrupt financial resources and close the borders left open from the Syrian Civil War.  Amirie said there also needs to be a competent and reliable ground force, considering the international coalition has failed to have an impact.
"The topic of ISIS is portrayed in so many different ways in the media, so all the information Amirie provided definitely helped clarify some important issues," Katy Crabtree, a graduate student in the MPPA program at Cal Lutheran, said.  "He has such an amazing background with all of his life experiences, so I really appreciated the depth of Amirie's knowledge on the topic."
Amirie certainly provided a great deal of knowledge on the history and expansion of Islamic extremist groups, but it was his own personal story and background that got the attention of almost everyone in attendance that night.
Amirie was born in a farming town of Central Iran and moved to the United States in the late 1950s.  He came to America with less than $700 in his pocket and knew fewer than 40 words in the English vocabulary. Amirie earned a bachelor's and master's degree as well as his Ph.D.
After Amirie earned his Ph.D., he went on to teach at Kent State University.  There he formed a group to travel and study in his native country for a year, which resulted in Amirie establishing the Iranian Institute for International, Political and Economic Studies (IIPES), according to a Cal Lutheran press release.
Amirie returned to the United States after the 1979 Iranian Revolution and began teaching political science at the University of California, Los Angeles.  In October of the same year, former President of the United States Ronald Reagan, sought after and requested Amirie to serve on his team of foreign policy advisers.  Amirie held the position from October of 1979 until September of 1984, according to an Academy Press of America, Inc. press release.
In 1987, Amirie and his wife, Susan Amirie, co-founded the Civil Service Academy, "which prepares women and minorities for careers in law enforcement," according to Cal Lutheran's MPPA press release for the event.  He also serves as the honorary president of the academy and has spent the last 30 years teaching Middle Eastern politics at UCLA and the University of California, Irvine.
"Amirie has achieved so much, it's almost unbelievable all that he has done and accomplished in his lifetime," sophomore, criminal justice major, Yolanda Mosley, said.  "After learning his background and where he came from to where he is today, he is truly an inspiration."
Amirie has published several articles and books on the Middle East as well as an autobiography entitled "Unparalleled Journey: From Raising Lambs to Advising World Leaders."  In his 308-page autobiography, Amirie proves that anything is possible through hard work and determination.
Tate Rutland
Staff Writer
Published October 28th, 2015