The top feels so much better than the bottom
The California Lutheran University Regals volleyball team hosted the NCAA Division III Women's Volleyball Regionals on Nov. 13-15.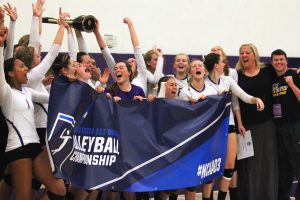 The tournament welcomed eight teams to the Gilbert Arena, but it was the Regals who came out on top. Cal Lutheran won all three of its games and became the 2015 Regional Champions, earning a trip to the National Championships in Grand Rapids, Michigan.
Freshman outside hitter Amanda Roberts played a key role all weekend for the Regals.
"It's overwhelming. It's such a good feeling," Roberts said. "Together the team and I have put in so much hard work just to make sure that we're always on our game, and it's been hard. It's had its up[s] and downs but that just makes this moment so much better. When you work so hard for it, it's crazy." 
The first day of the tournament the Regals, who were the sixth seed in the tournament, took on No. 3-seeded Colorado College. 
The Regals were able to take the victory quickly, winning the first three sets of the game 25-17, 25-21 and 25-21.
Junior libero Nicki Tetherow could not have been happier with how her team performed on Nov. 13 and attributed their win to the hard work the team put in prior to the tournament.
"We worked our butts off the last couple of days," Tetherow said. "Starting Monday we went really hard. Tuesday we went hard in practice. We really took advantage of the hour we were given on Thursday in here, and we just don't want our season to end." 
On Nov. 14 the Regals took on the University of Texas-Dallas, once again sweeping the match in three sets, winning 25-16, 25-18 and 29-27.
Cal Lutheran was able to take the momentum into the championship game against No. 1-ranked Washington-St. Louis on Nov. 15.
The Regals took the win the first set with a score of 25-20. Washington-St. Louis answered back by winning the second set with a score of 25-17. The Regals were able to take the last two sets 25-12 and 25-21, defending their home court and securing a trip to Michigan for the first time since they lost in the National Championship match in 2013.
According to clusports.com the Regals had a combined 13.5 blocks as a team against Washington-St. Louis, with nine assisted by junior middle blocker Monica Lundgren. Tetherow led the team with 16 digs and junior outside hitter Michelle Lawrence followed up with 12 digs.
Lawrence, who had 13 kills in the final, said that it was because the Regals gave it their all that they came out victorious.
"I am pumped, oh my gosh. It was crazy. We went out with our hearts on our sleeves and it paid off," Lawrence said.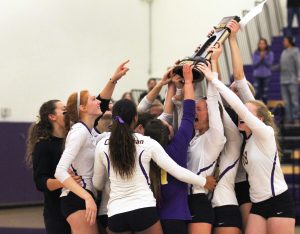 Lawrence was also awarded the Most Outstanding Player of the Tournament.
"It feels really good. I mean I honestly couldn't do this without my team and they played awesome and we all were in it to win it and it showed," Lawrence said.
Roberts said from now until they leave for Michigan, the Regals will be practicing and preparing for their next round of matches, with the hope of once again finding success.
"We're going to have a practice tomorrow. Just to make sure sleep-wise, rest-wise, nutritional-wise that we're on our A game. That way when we're traveling we're not at any disadvantage," Roberts said.
The Regals will leave for Grand Rapids, Michigan where they will compete in the Elite Eight Nov. 19-21 in hopes of becoming National Champions.
Joining Cal Lutheran in Grand Rapids are Wittenburg University, Clarkson University, Carthage University, Randolph Macon College, Hendrix College, Bethel University, and Bowdoin College.
Cal Lutheran will open the National Championships with Bowdoin College at 5:30 p.m. on Nov. 19.
Hailey Klemenok
Staff Writer
Published November 18th, 2015