Cal Lutheran honors victims of sexual assault
On Feb. 19 ASCLU hosted Take Back the Night to raise awareness of sexual assault and violence on college campuses.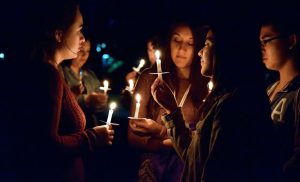 Sophomore Senator Brittney Martinez chose to bring Take Back the Night, a national organization, to California Lutheran University after her job as a peer adviser and mandatory reporter led to an interest in Title IX.
"I was a peer adviser this past year, so as a mandated reporter I was really interested in what Title IX means to college campuses. I watched a documentary when I was researching called 'The Hunting Ground' and I was interested to see how Cal Lutheran can participate in bringing awareness to such a prevalent issue," Martinez said.
Martinez said she believed it was important to start a conversation on campus. According to the Take Back the Night Foundation's website, "one in three women and one  in six men worldwide experience some form of sexual violence. Less than 50 percent of victims report these crimes."
"The name was started by the foundation to quote 'Take back all the nights stolen from domestic violence, sexual violence and sexual assault'," Martinez said.
To raise awareness across campus students, faculty and staff gathered together at 6 p.m. to march throughout campus making sure to pass every dorm and student dwelling.
Director of Student Life, Scott Silverman spoke to the group just before the march began.
"The statistics and facts are really staggering in terms of how often someone is assaulted or nearly assaulted and it's really encumbered upon each of us to take a personal responsibility to help ourselves and our friends avoid these circumstances," Silverman said.
Silverman said it is important for Cal Lutheran to come together to participate in an event that supports the entire community and represents everyone's best interest.
Following the march, people gathered on Mt. Clef Field for a candle light vigil. A moment of silence was given in honor of all those affected by sexual violence and for all future victims.
Adina Nack, professor of sociology, teaches the courses Sexuality and Society, Deviance in U.S. Society and Medical Sociology at Cal Lutheran and often discusses the topic of consensual and nonconsensual sex with her students, stating that typical undergraduate years are a high risk time for such circumstances.
"U.S. girls and women are typically raised to fear rape, to be on guard, which leads to too many people incorrectly feeling like it's the responsibility of girls and women to protect themselves from being targets of sexual assault. But scholars and policy-makers know that sexual assault will not significantly decrease until boys and men, who are the majority of perpetrators, make it their priority to stop being silent bystanders," Nack said. "When we all become engaged bystanders and speak up and take action if needed and if we hear or see someone planning or doing something disrespectful or sexually criminal. We also need to remember to raise awareness about and work to prevent same-sex intimate partner violence and sexual assaults."
For confidential help with any form of sexual violence or assault, students can contact Student Counseling Services, Campus Ministries, Health Services or the Campus Pastoral Support Team.
For official reports and investigation, students can contact Jim McHugh the Title IX Coordinator, Residence Life, the Vice President of Student Affairs, Dean of Students, Campus Safety or Human Resources.
Taylor Rowland
Staff Writer
Published February 24th, 2016