Married math professors join the CLU community for one year
February 24, 2016|34 Views
Bill and Aparna Higgins decided to take a break from their lives in Ohio to move to California for one academic year.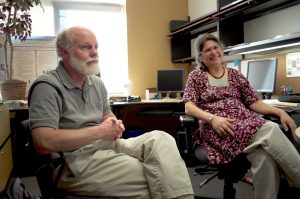 In fact, both Bill and Aparna Higgins are mathematicians and professors at universities in Ohio.
They were accepted and hired to take their two sabbatical semesters at California Lutheran University.
"We know that it is coming up every seven years and we try to plan for it," Aparna Higgins said. "Well, we could stay in Ohio for one semester, but Ohio is really cold right now. We can take the whole year off if we go on half pay, and that's what we requested so that we can come away for a full year."
Seemingly, the couple is spontaneous and enjoys both adventures and long road trips.
"We packed up two car loads of things and brought them with us," Mathematics professor Bill Higgins said. "We came to an unfurnished apartment and filled it with things that we have to get rid of when we are leaving."
It is not the first time the Higgins packed up their home and belongings to move for their sabbatical year.
"This is our fifth time," Bill Higgins said. "This is the fourth year we've been to California for a year and seven years ago we were at CSUCI."
Aparna Higgins said she is passionate about her profession.  She believes mathematics is something everyone can and should appreciate.
"I always ask my students, are you too young to know who Michael Jordan is? No, right? So even if you cannot play basketball like Michael Jordan, you can still notice the poetry and motion that Michael Jordan brings to the game. The point is that you can appreciate it. That's how I feel about mathematics. You don't have to become an expert. You just have to enjoy it, Aparna Higgins said.
Assistant Professor of Mathematics Christopher Brown is positive about the replacement hire and believes the Higgins' have brought many good things to Cal Lutheran.
"Aparna is a nationally recognized figure in leadership in mathematics society," Brown said. "She is one of the organizers of an institution for fostering good teaching in recent doctorial graduates that's called the project Next. She was the National head of that for years and she is still a major leader in that organization."
Aparna Higgins' husband Bill is also contributing to Cal Lutheran's community.
"Bill is actually more focused on middle school and high school education that fits really well with our outreach projects," Brown said. "We have a math circle that runs once a month and it's an opportunity to bring local high school teachers in and talk about math problems, talk about some issues that they are having in the class room and kick ideas around."
After all, being a professor and taking sabbaticals can be hard, especially for those with families.
"For a lot of people there are factors we don't have to consider. We are lucky that we are married and in the same business. Our schools understand sabbaticals and they give sabbaticals," Aparna Higgins said. "This is our first sabbatical without children, our children have grown up now. They used to come with us, and that was another reason for why we were doing a full year because we did not want to interrupt their school year."
Aparna Higgins teaches at University of Dayton in Ohio and  said it is different than teaching at Cal Lutheran. The classes are bigger at University of Dayton and there can be up to 45 students in a classroom, whereas at Cal Lutheran she only has about 12 students in one class.
"I teach at a huge school.University of Dayton is Catholic so I understand the religious aspect, but it has 6,000 students which is different than Cal Lutheran. There is not enough room to stand up at times," Aparna Higgins said.
The Higgins alternate the semester they teach while on sabbatical. Bill Higgins taught in fall 2015 and this spring he is working on a research project.
"It is really important for us to have our classes covered as much as possible by well-established faculty members," Brown said. "Not only working with teaching classes but working with them on research, for example, two of our faculty members here at CLU are working together with the Higgins on a research project and they expect a paper published out of that collaboration."
The California weather might be  the reason why many people move here, but for Bill Higgins the weather is not everything.
"There is an ocean here  and there is no ocean in Ohio," Bill Higgins said. "It is more of the scenery than the weather that I like."
Lisa Hemmingson
Staff Writer
Published February 24th, 2016