Kingsmen push off season workout to the limit
The 2016 college football season kicks off in less than 200 days. For the next six months leading up to the season, fans will experience some football-related withdrawal symptoms, but the players are already gearing up for the fall as they begin spring training.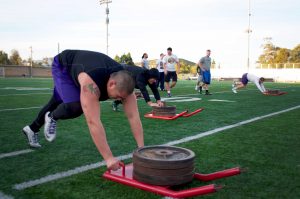 California Lutheran University's football team got off to a running start this preseason as the boys in Violet and Gold made a few adjustments to their offseason regimen. The Kingsmen have been plagued with a 4-5 overall record for three consecutive seasons and Jesse Cerdas, an upcoming senior offensive lineman, is more determined than ever to make sure the team earns a seat in this year's postseason.    
"We haven't been to the playoffs since 2012.  There are all these other teams in our conference that are working hard or harder than we have lately, so we're doing all that we can to get on their level," Cerdas said. "The idea is to get more guys out here to put in the extra work to be more successful this upcoming season. We really want that championship ring."
Every Tuesday and Thursday morning at 6:30 a.m., Cerdas and his teammates are up and running on the gridiron. When they're not dashing to the 40-yard line or doing up-downs, they're pulling sleds with anywhere from three to five plates on it. One plate weighs a total of 45 pounds in addition to the 30-pound sled.
They do sled pushes where they're basically on all fours, and lateral sled pulls where they attach a strap from the sled onto their waist and shuffle down the field.
Most of the players involved in Tuesday and Thursday's training are Cal Lutheran's offensive and defensive linemen.  All the workouts they can be seen doing at the crack of dawn are particularly geared for that position.  A good lineman has to be explosive with short-range speed and quick hands.  Linemen must have raw power and strength.  Most of all, they have to be the toughest on the field, both physically and mentally.   
"As linemen, we seem to hold ourselves to a higher standard than some other positions, because we have to be the most consistent and the toughest on the field for every single down, Cerdas said. "If someone doesn't show up for training, they will receive punishments. It's not that we're picking on anyone, but we have to hold our fellow linemen accountable."
On the field, these boys demonstrate anger and aggression, which is good as a football player and especially as a lineman.  More impressively, they could control their anger and harness their aggression in order to complete the workout as a team.
"Training more together during the offseason really makes a difference. It's a good team building exercise when we're all out of the field together and pushing each other to make us better as individual players and as a team," Ivan Campos , junior offensive lineman, said.
The Kingsmen graduated a 22-man senior class in 2015, and in order to make up for the large departure of talent, they have taken their offseason program to another level.
"We are trying to start a culture of hard work. In the past we have done the bare minimum and we just want guys to show up and work hard. We want to start a new tradition. DIII we can't kick anyone off the team and it's hard to discipline guys so we have to somehow come up together and be leaders and set those guidelines and rules for ourselves and for those players in future," Cerdas said.
As Denzel Washington once said, "We are change. We're gonna change the way we run. We're gonna change the way we eat. We're gonna change the way we block. We're gonna change the way we tackle. We're gonna change the way we win."
Tate Rutland
Staff Writer
Published March 9th, 2016