CLU hires second full-time officer
California Lutheran University recently hired its second female full-time campus safety officer, Denise Zambrana.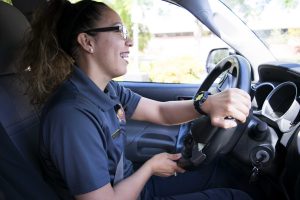 "Having a diverse staff at Cal Lutheran is important, due to the fact that our campus is made up of a very diverse population," Director of Campus Safety David Hilke said in an email interview.
According to Hilke, Zambrana's job is no different than the rest of the safety department, which currently has 12 males and two females, making a 6:1 ratio.
"Campus safety officers are primarily responsible for providing security and safety services for students, staff, visitors and physical assets of the campus community. The position is also responsible for enforcing campus motor vehicle regulations and assists in parking and traffic control," Hilke said. "Denise has a positive attitude and an enthusiastic personality that will help her succeed in the position of a Cal Lutheran Campus Safety Officer."
Zambrana attends school full-time at Ventura County College, and is completing the Ventura County Police and Sheriff Reserve Academy.
"The community is wonderful. I have met some people along the way so far and I have nothing bad to say about Cal Lutheran, it's great," Zambrana said.
Completing CPR and AED as well as training for the duties on campus Zambrana said.  She is enjoying keeping the Cal Lutheran community safer.
According to Zambrana, her favorite part about working as a campus safety officer has been interacting with the community and getting to know everybody's different backgrounds.
"It feels really great to be a woman hired in this field. Sometimes a female student calls and wants to talk to a woman. If you don't have a female officer how are you going to make that student feel comfortable without a female," Zambrana said.
When walking at night Zambrana recommends staying in a group regardless if you are male or female, make sure you have a buddy late at night.
"Criminology students should listen carefully in their classes because everything you learn will be used in the field," Zambrana said.
Sarah Dawoodjee, a student worker at campus safety and a criminal justice major, said she was happy about the new female campus safety officer because Zambrana is  currently the only female officer right now, which helps create a more diverse staff of officers on campus.
"It's important to have diversity on campus, not strictly one race. Diversity is also important because your campus should reflect the population," Dawoodjee said. "We have more women than men here so our campus safety and staff should reflect that."
Jessica Gilbert
Staff Writer
Published April 20th, 2016