Mahalo from the Kupa'a Hawai'i Club
On April 14, Kupa'a Hawai'i Club hosted their annual lu'au complete with L&L Hawaiian Barbeque, performances by SayReal and current California Lutheran University students, raffles and games. Admitted students participating in the InCLUsive overnight stays were also welcome, bringing the attendance numbers up to over a hundred with ticket proceeds going to Hawai'ian charities.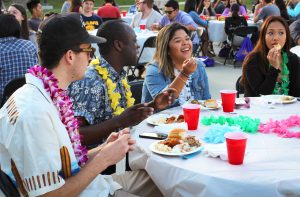 "The lu'au is by far our biggest event. We do reach out to a bunch of different groups of people to come out to the event and that's what makes the event so big," Ryan Perez, Kupa'a Hawai'i Club treasurer, said. "It is the biggest event hosted by a club at CLU. It has the biggest turnout. This is high energy."
From 6 p.m. – 9 p.m. with their pre-lu'au pool party, The Lu'au Splash, Grace hall basketball court was packed with tables, chairs and musical gear. Games such as Kumu Says, a Hawai'ian hula version of the traditional Simon Says, and Junk In the Trunk, where the object of the game is to dance ping-pong balls out of a tissue box attached to the contestant's back, were all crowd hits.
"If people spend more of their time and money and energy in experiences instead of material things, then you're really investing in something good," said Alexander Akpodiete, a potential incoming first-year student from Santa Clarita, California, and a participant in the Junk in the Trunk party game. "With this, they seemed very professional, it was very well run."
Admitted students got to have their first taste of Cal Lutheran's cultural diversity and spirit at the luau.
"We usually always have it as an opener for Admitted Students Day as well," Pua Mo'okini-Oliveira, Kupa'a Hawai'ian Club co-president, said.
SayReal, a local band who came together just last year for a spur-the-moment show at Hotel Café in Los Angeles, performed several songs from their new album "Unarmed and Ready." The album was available for purchase at the event. According to the website, Idol Chatter, lead singer Naia Kete was on the 2012 season of the hit NBC show "The Voice," making it to the top 24.
"I saw them in Ventura once and I just really liked their sound. It was very relaxed with that sort of a feel," Mo'okini-Oliveira said.
In addition, there were multiple raffles throughout the night with the proceeds going to Family Programs Hawai'i, which is an organization dedicated to helping children in the child care system. Portions of the advanced ticket sales for $5 and at-the-door tickets for $7 will go to this organization.
"Family Programs provides preventative care, supportive care for children who are moving into the child care system and we try to keep them out of the child care system," C. Kent Coarsey, vice president of development and communication for Family Programs, said. "If they do end up in the child care system, we help them all the way up through adoption. We have a whole series of programs to provide those services to children."
Coarsey lives in Hawai'i but was glad he was nearby for a meeting and could make it to see the lu'au. This event was the club's third year supporting Family Programs, Hawai'i.
"This lu'au is, in essence, supporting this program. A portion of the ticket sales and a portion of the raffle sales are going to us. They've been doing it for years," Coarsey said. "We're very appreciative that Cal Lutheran is doing this for us. It's nice that even 2,500 miles away, our program is receiving support and supporting our mission."
As a multicultural club on campus, the ultimate goal of the club is to promote Hawai'ian cultures including food, dance and daily life. Both Perez and Mo'okini-Oliveira are native Hawai'ians.
"We are a multicultural club and, despite our name, we accept anyone. You don't have to be Hawai'ian," Mo'okini-Oliveira said. "We just want to promote the culture and community."
Perez has been a four-year member of the club inspired by the lu'au he attended during his initial Cal Lutheran experience. The lu'au for him is both fun to plan and great to attend.
"It's a great way to express and share our culture. We do all these things and people here on the mainland kind of get to see more of what our lifestyle is and where we come from," Perez said. "Being involved with the lu'au is so fun always, it's so exciting and energetic."
Cultural cohesion is core to the club's values, and nothing does it better than hosting the biggest club event on campus.
Molly Strawn
Staff Writer
Published April 20th, 2016