Every survivor has a story: Remembering the Holocaust
Students, faculty and community members came together at the California Lutheran University Chapel for the annual Holocaust Remembrance event on April 28.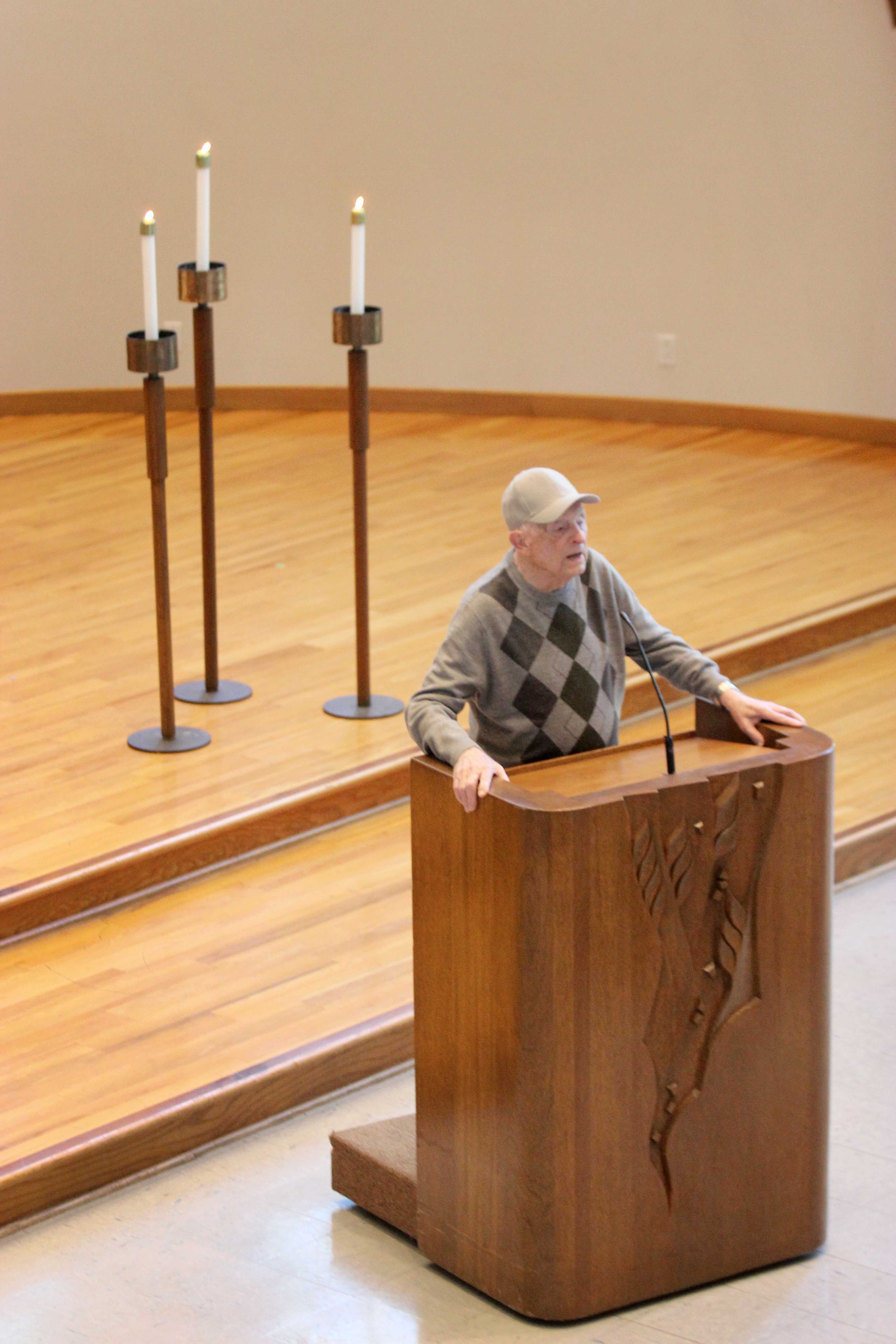 The event brought Holocaust survivor Michael Mark to recount his story of living through the Holocaust.
"It's to remember and be part of this continuation of repeating the knowledge. Every Holocaust survivor has their own story and each story is different. The more you learn about it, the more you hear stories, the more you can get a deeper understanding of the crazy reality that that was," Rabbi Belle Michael, who was one of the main coordinators of the event, said.
Mark described how his journey through the Holocaust began.
"They took us to a nearby city, in an open field. We were there for maybe a day and then sure enough, they had the cattle cars. The doors were open and they kept pushing us and pushing us. All the German and Hungarian soldiers, they kept packing us like sardines. We tried, as families, to get into the same cattle car and be together," Mark said.
Members of Cal Lutheran's Hillel club, which aims "to explore and educate about Jewish culture, spirituality and ethics," according to their club website, were in attendance and participated in lighting candles at the beginning of the service and gave a closing prayer.
"For so many of us, this catastrophe seems so far removed that it is difficult to imagine anything like it happening today. But if there's one thing that the speaker's story made clear, it's that tragedy can strike anyone at any time," Jacob Jasper, Hillel club board member, said.
Teary-eyed, Mark went on to talk about what other hardships he endured throughout the Holocaust.
"They took us to the death march. We were all tired, all exhausted. People were collapsing and dying and if you tried to stop and get down to help, you would immediately be killed. This was the time my own father collapsed and I had no chance to stop and say goodbye. I would've been killed right away," Mark said.
Michael spoke about the importance of retelling these Holocaust survivor stories.
"Our only power is in education, the more we help people to see and know and learn about what had happened, the better chances we have that it will not happen again," Michael said.
Members of the Hillel club, Mark and Michael stressed the significance of the information these events bring to the community.
"Events like these are so powerful- they serve to remind us that the 11 million people that died during the Holocaust were just like us in so many ways. I believe that events such as this transcend race and religion and remind us of our common humanity," Jasper said.
The idea of education and communication were highlighted in the conclusion of the ceremony.
"There will come a time when there is no one left to relay their first-hand accounts of this tragedy and it will then be up to us to educate the next generation," Jasper said. "We all have a duty to be aware of humanity's past mistakes so we can ensure that tragedies such as this never repeat themselves."
Rebecca Austin
Staff Writer
Published May 4th, 2016