Christopher Gardhouse is no stranger to hard work as starting center defender for the California Lutheran University men's water polo team. As an exercise science major, Gardhouse's passion is evident in his efforts both in and out of the pool.
"He's really focused in the classroom and he has played a lot of water polo in his life so he has no problem getting focused for his water polo training," Head Coach Craig Rond said.
According to Gardhouse, his love for water polo developed the summer before his freshman year of high school.
Growing up he played just about every other sport including baseball, soccer and basketball but he gave them all up when he found water polo.
After winning the California Intershcolastic Federation water polo championship his senior year of high school, Gardhouse went on to play at the University of the Pacific, according to Rond. Gardhouse transferred to Cal Lutheran his sophomore year to play water polo for the Kingsmen.
However, beyond his passion for water polo, Gardhouse is chasing his dream of becoming a physician's assistant. Inspired by his grandfather, who is also a physician's assistant, Gardhouse said he knew from a young age that medicine was an interest of his.
"I've known that I've always wanted to go into the pre-health industry, I could never really decide on what route I wanted to take," Gardhouse said "I actually went out to shadow a doctor that my grandpa worked for and that's really when I knew that that's what I wanted to do."
In the summer of 2013 he decided to investigate what it would be like to work as a physician's assistant.
"I saw what he was doing and I saw what the doctor was doing for him and I watched them work together and I thought that was really cool," Gardhouse said. "It sort of clicked for me and that's how I know."
Rond said that beyond being a clear leader on the team and one of the best defensive players in the conference, Gardhouse is incredibly focused on his career.
Rond said he has enjoyed watching Gardhouse grow over the last two years.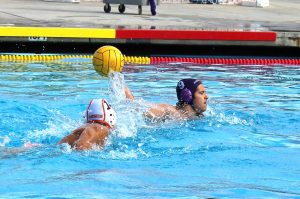 "I like his vision and where he sees himself going," Rond said. "He's headed in a great direction."
"Chris talks about being a physician's assistant often, and also discusses ways that he wants to go about doing it, from studying on weekends, to making connections with those who have their foot in the door," sophomore utility player Jack Kirby said in an email interview.
According to Kirby, Gardhouse often does his homework on the bus rides to games to make sure he stays on top of his studies.
"He grinds at whatever task is at hand, and sees his homework or lessons as a path to his future rather than busy work," Kirby said in an email interview.
According to Kirby in an email interview,  the team looks up to him in more than one way because he leads by example when it comes to academics as well as in the pool.
Gardhouse said that Cal Lutheran's men's water polo team is one of the best teams he has ever played with in his seven years of experience.
"This is a fantastic group of guys and we all get along really well," Gardhouse said.
According to Gardhouse, the team spends a good amount of time together outside of practice and games and has developed a real bond with one another.
"He is a kind and loyal friend to those that he loves, as well as one of the most motivated and hardest workers that I know," Kirby said in an email interview.
Gardhouse and his teammates will be competing against Pomona-Pitzer Nov. 4 at 4 p.m. in the Samuelson Aquatic Center.
Alli Barton
Staff Writer