Kingsmen Falter Twice on Season Opener
With strong winds blowing all day Jan. 28, California Lutheran University's men's tennis team began its season at home playing Cerritos Community College and Cyprus Community College. At the Poulson Tennis Center, the Kingsmen dropped their first match of the season 8-1 in a non-conference matchup facing Cerritos.
The doubles matches were close but the Kingsmen ultimately fell as junior Dara Kashani and sophomore Ransom Braaten dropped the set 8-5 at court No. 1, junior Lucas Tilly and freshman Jake Haffner lost 8-6 at court No. 2 and freshman Sebastian Ariza and freshman Austin Wong fell 8-4 at court No. 3.
In singles, Braaten won his match 6-0, 7-5 at court No. 2 and provided Cal Lutheran its one point for the match.
"Ransom played great, he had a really good win. The guy at number two was pretty solid for Cerritos," Head Coach Mike Gennette said.
Cerritos swept the rest of the singles matches as Kashani lost 6-3, 6-0 at corut No. 1 and Tilly fell 6-2, 6-2 at court No. 3. Haffner dropped the first set 6-2 but took the second set to a tiebreak before falling 7-6 with two points in tiebreak at court No. 4. Sophomore Michael Sulahian lost his match 6-0, 6-2 at court No. 5 and Ariza almost won his first set but lost in a tiebreak 7-6 with three points in tiebreak and dropped his second set 6-1 at court No. 6.
"It was the first match of the season and the first match of the careers for a lot of these guys, so I thought they performed pretty well," Gennette said.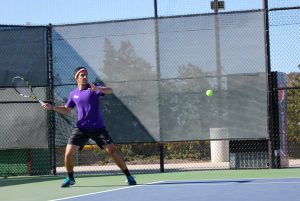 The Kingsmen steadily improved as their second match of the day occurred against Cyprus CC but were outlasted 6-3 in another non-conference matchup.
In doubles, the Kingsmen pairing of Sulahian and junior Andrew Tufenkian won its match 8-2 at court No. 3 and earned Cal Lutheran its first point.
The other matches concluded with Kashani and Braaten falling 8-2 at court No. 1 while Tilly and Haffner also lost 8-4 at court No. 2.
Singles started with Kashani losing his sets 6-1, 6-1 at court No. 1, Braaten fell 6-2, 6-0 at court No. 2 and Tufenkian lost 6-3, 6-4 at court No. 5. Wong went on to almost win in both his sets but fell 7-5, 6-4 at court No. 6.
Cyprus sealed the deal after winning those four straight singles matches, but the end of the evening showed a bright future for the Violet and Gold.
"In the second match, Tilly, he had a good, clutch performance there with a 7-6 with four points in tiebreak, 7-5 win," Gennette said.
The night concluded with major wins by Tilly at court No. 3 and Haffner at court No. 4.
"I thought Jake had a good competitive match at No. 4, 6-2, 7-6, and then he ended up winning in the afternoon match, so Jake had a pretty good day. He's one of our stronger freshman," Gennette said.
The final match of the night ended in dramatic fashion as both teams gathered to watch in anticipation. Haffner came back after losing the first set with a 2-6 and won the second set tiebreaker 7-6 , with three points in tiebreak and then capped off the match with a 10-5 tiebreaker.
"Well it was a tough one. I wasn't playing my best to start off, but the coaches really helped.  I kind of pulled it together and got a good strategy so I pulled it out. It was a tough one, it was a long one, so I'm really happy I did," Haffner said.
Kingsmen tennis looks to prepare for their first Southern California Intercollegiate Athletic Conference conference match in two weeks against Pomona-Pitzer.
"Next match will be definitely better, definitely going to take what we learned from today and practice, work better, tie up some loose ends and next match will definitely be more competitive, and looking for that W," Sulahian said.
Cal Lutheran will be back at Poulson Tennis Center to take on Pomona-Pitzer Feb. 11 at 10 a.m.
Matt Weisman
Staff Writer