Marty McCambridge's Unbreakable Spirit
Marty McCambridge will present a play she wrote called The Nordic Princess Breaks the Ice: "A Tale of Indomitable Fragility".
Her husband Michael McCambridge, an education professor at California Lutheran University, will be directing the play.
"The play is about my life, dealing with Osteogenesis Imperfecta (OI) which is a bone disease," Marty McCambridge said. "It could be something that makes you want to curl up in a ball and sit on a couch your whole life and do nothing, and this is my story of how I said no, I'm just going to live a normal life."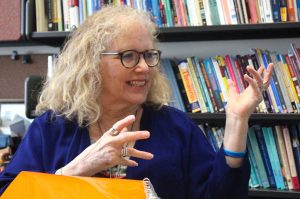 She has broken more than 50 bones in her life.
Marty McCambridge is in a writing group and took a writing class with Kent Wood called "What's your Story." When people in her class learned her story of living with OI and breaking bones, she said they told her, "This is amazing, you have to write more and tell more people about this."
She said she has written more and put her story out to the public.
As the director of the play, Michael McCambridge will be in charge of scenery, lighting, stage movement and making sure the story is told in a dramatic but humorous way.
"You're making sure people can see it, hear it and that it's fluid so that the story gets told the best possible way," said Michael McCambridge. "I think this play will be well received, and we have done it before for the Lutheran Ladies of Holy Trinity, where at least 60 people attended, and also we did it six times in a small theatre in North Hollywood where we had an excellent response. The play is educational but also very entertaining, there's music and lots of fun stories, but also as you can imagine, some serious moments."
Marty McCambridge said that a lot of people don't know about OI, including doctors, because of its rarity.
"We're also asking people to donate whatever they're comfortable with to the OI foundation, and we'll be selling OI foundation bracelets that say 'Unbreakable Spirit' on them which is kind of their theme," Marty McCambridge said.
The McCambridges also reiterated how thankful they are to the Cal Lutheran Theatre Department for sponsoring the play.
"We want to get the message out to people about Osteogenesis Imperfecta. Marty is not the most serious case even with breaking all those bones, there are people that have OI who have been in wheelchairs their whole life," Michael McCambridge said.
Marty McCambridge is able to walk with a cane and she said, "I'm blessed to still have the ability to walk despite having OI."
It is estimated that between 25,000 and 50,000 people in the United States have brittle bone disease according to the Osteogenesis Imperfecta Foundation website. There is no known cure for Osteogenesis Imperfecta, because "it's a genetic thing," Marty McCambridge said.
Doctors have been looking into treatments that will help people with the disease live a longer, fuller life. The disease has a 50 percent chance of being passed down genetically to children. The McCambridges have two daughters and a niece that have OI.
The play will run March 10 and 11 at 8:00 p.m., in Preus-Brandt Forum at California Lutheran University.
Admission to the play is free besides any donations people want to make to the OI foundation.
David Brown
Staff Writer