Hats and High Tea
On March 12 the California Lutheran University Community Leaders Association (CLA) held its seventh annual Hats and High Tea, which serves to raise money for student scholarships and faculty grants.
"We just wanted to make something that people could come and enjoy," said Community Relations Coordinator Cindy Keitel, who has worked through the University Relations office with the CLA to host this event since its founding. "I think people enjoy both the beauty of the experience as well as the wonderful social environment."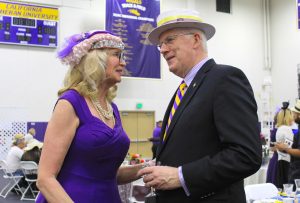 The afternoon took place in Gilbert Arena with live music from student Katherine Reaves and harpist Vonette Yanaginuma. Attendees were also invited to take place in a raffle and silent auction with different prizes such as gift baskets and coupons.
Cal Lutheran alumnus Karsten Lundring kept the event running as a first-time emcee. Lundring, a 1965 graduate, attended Cal Lutheran during its first academic year after opening in 1961.
"I'm looking at it, and wow it's so over the top, it's unbelievable," Lundring said. "When I started as a student we had just a few buildings, and even a few chicken coops. Now, the faculties and the events like this, it's just amazing."
Attendees were encouraged to wear a hat, and each table had a festive theme such as Christmas, Breakfast at Tiffany's or under the sea. Awards were given in a variety of categories, such as Most Creative Table Setting and Most Elegant Hat.
This year's Hats and High Tea set the record for having the highest attendance, as well as having the first ever all-male table with the theme 'All the Kingsmen.' After a reception, food and dessert were served and the musicians performed. Judges wandered around to look at all the different hats and pick their winners.
"Judging is fun, there's a lot of thought that goes into it, and it's an honor to be asked to be a part of the event," said senior Jessica Maxey, who worked as a judge for tables the previous year and for hats this year. Maxey works as one of two student representatives on the CLA board.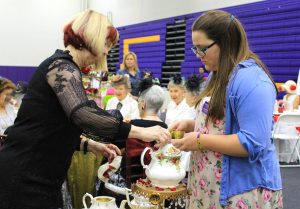 CLA, founded in 1963, works to engage community interest in Cal Lutheran's academic, athletic and cultural programs. Members organize fundraisers and social events throughout the year to support department work and student scholarships. This year's scholarship recipients, selected for their community service, leadership potential and academic achievement, were Sonora Caroll, Anissa Fraijo, Cody Jones, Julia Kearns, Christian Moreno, Kayla Dubowsky, and Alexandra Stewart.
The next CLA event will be the 17th annual golf tournament, hosted Thursday, June 15 at the Moorpark Country Club. For more information, visit the CLA page on the Cal Lutheran website.
Emily Graybill
Staff Writer