Regals Serve a Loss to the Tigers on Senior Day
The Regals bid farewell to seniors Shelby Kubota and Emily Werman as the tennis team defeated Southern California Intercollegiate Athletic Conference opponent Occidental at the Poulson Tennis Center. It was a successful last home stand as the California Lutheran University women's tennis team won 8-1 as the team swept in doubles.
"I think we just wanted to come out here and play the best we could. I think we really wanted to come out strong and be present for doubles and continue it into singles," Kubota said.
Junior Nicole Neumann and sophomore Sarah Seeman served their way to victory as they won the first match 8-2 to start the day. Kubota and junior Annette Sousa clinched their set 8-5, while Werman and sophomore Christie Kurdys pulled out their set 8-6.
"I feel like I performed pretty well in doubles. I tried to stay present throughout the whole match with everything going on previously, but I think I did a good job in doubles staying present and focused and went out there and did the best I could," Werman said.
In singles, Sousa finished both of her sets strong 6-1, 6-2 and Seeman dominated 6-0, 6-3 clinching the match April 8 against Occidental.
Neumann won 6-3, 6-1 and Kubota had a memorable senior salute as she held her opponent 6-2, 6-2.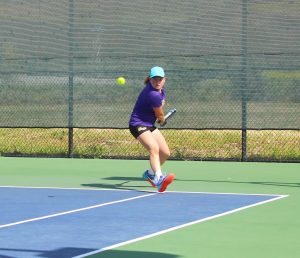 "In doubles, I was really aggressive at the net and wasn't letting anything go. I think in singles, I struggled to be present early on because I'm stronger in singles, so I was a little bit lax. In the second set, I kind of focused more on hitting to the service line and getting it in and making her make the error," Kubota said.
The final matches to finish off were Kurdys winning her match 6-3, 6-2 and Werman who battled hard but barely lost 6-4, 6-4.
"I think everyone played well. We won 8-1, so in terms of winning we swept the doubles, meaning we got all those points. So we were at 3-0 so we only needed two more points to win the match and we won every single court except for court No. 2 and that was even a close match [6-4] and [6-4]," Head Coach Vanessa McPadden said.
As Kubota prepares for graduation and the next phase of life, there are new plans that lie ahead.
"I think I am going to take a couple years off and relax and get into the workforce a little bit. It's been ever since I was like 13. It's tennis, tennis, tennis so I want to see what else I can do," Kubota said.
For Werman, playing for the Violet and Gold will not be the end of her tennis career.
"It's a big part of my life on the court [and] off the court. I've gotten a lot of experiences coming and [tennis] will definitely continue to be a part of my life even when I'm done with college," Werman said.
There was a brief ceremony at the beginning of the match with McPadden praising both athletes for their dedication to the team on and off the court.
"Shelby's always been our leader on our team. I think she's a three-year captain and she was the President of SAAC [Student-Athlete Advisory Committee] and she was the vice president the year before. She's a leader, a hard worker and a strong competitor.  She's someone who is a go-getter and a great person," McPadden said.
"Emily is extremely loyal, she's always thinking about other people, very selfless. Strong, strong, strong competitor, the last one out on the court during a match. She started I think every single match in her career in her four years. She's very athletic and kind-hearted," McPadden said.
Cal Lutheran (4-9, 2-3 SCIAC) will be at Pomona-Pitzer Saturday, April 15 at 10 a.m.
Matthew Weisman
Staff Writer