Kingsmen Shut Out Poets in Home Opener
On Wednesday, Sept. 6, inside William Roland Stadium, the California Lutheran University Kingsmen men's soccer team defeated the Whittier Poets 3-0 in the SCIAC home opener.
Senior forward Brandon Kearney scored the opening goal for the Kingsmen shortly after kickoff at the 42:42 mark. Fellow senior, midfielder Diego Ortega, scored two goals, the first at the 19:38 mark of the first half and the second coming with nine minutes left in the first half.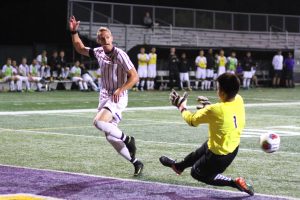 There were several keys to Cal Lutheran's victory.
"For sure teamwork, working together, moving up and down the field together, and staying composed. Composure is key especially in this league because it is such a crazy, chaotic game. I think we did exceptionally well in executing the game plan. Getting up 3-0 in SCIAC is really hard," said Ortega.
Ortega scored the first goal when he was making a creep run through the middle and sophomore forward Joey Arnold played a nice through ball right in and Ortega did the rest and finished in into the back of the net. For the second goal that Ortega scored, Kearney got past a defender on the outside, crossed it to the middle, and Ortega capitalized on the score with his left foot.
Head Coach Dan Kuntz added that the Kingsmen did a good job defensively by not allowing long balls over their head. "Once we won the ball we were able to connect the passes and make the other team have to run a lot, which over time their legs dropped off a little bit. We got a few goals that we needed and that really helped us a lot," said Kuntz.
In addition, Coach Kuntz voiced that "we knew the other team played straight-forward soccer with some physical play. We said let's weather that for a little bit and see if we can get some goals by counter-attacking and we did."
Junior midfielder Max Sharpe and sophomore forward Joey Arnold each had one shot on goal. "Keep your composure and work together as a team up and down the field were keys tonight. We were able to shut down the other team too. We were able to keep the ball moving to shut down their spirit and make it so that they couldn't run at all," said Sharpe.
Senior Eduardo Garcia made three saves in goal and earned his first shutout of the young season. Another key contributor to the victory was junior defender Charlie Villa-Lovos, who helped lock down the Poets' attackers with his stellar defensive play and aggressiveness.
Cal Lutheran had 10 shots with seven on goal in comparison to the eight shots that Whittier had with only three on goal. Whittier had 17 fouls in the game and Cal Lutheran had 16. In addition, there were three yellow cards called by the referees, two on the Kingsmen and one on the Poets.
Cal Lutheran improved to 2-1 on the season while Whittier fell to 0-2. Looking forward to Cal Lutheran's next game against Chapman on Sept. 9, Coach Kuntz said there are still some things the team can improve on.
"We have to move the ball faster amongst our team passing more. We have to finish the chances we have on goal and we have to keep our composure and not have fouls and yellow cards," said Kuntz.
The game against Chapman will take place in Orange, Calif. on Sept. 9 at 11:00 a.m.
David Brown
Reporter