Thousand Oaks Gears Up for Fall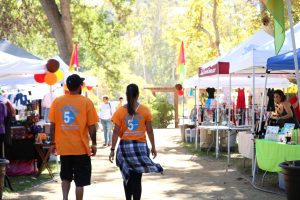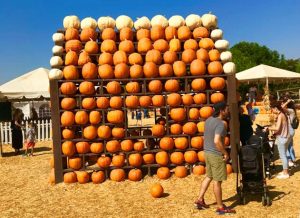 Fall season will be full of different events in and around the Thousand Oaks area ranging from pumpkin patches to fall festivals and Halloween attractions.
Underwood Family Farms in Moorpark is having its 20th annual Fall Harvest Festival throughout the month of October. Weekends at the festival feature events such as the wild west show that will take place Oct. 21-22.  Daily attractions include a corn maze, pig races, animal shows, wagon rides, festival games, pumpkin bowling and more.
"The pig races are hugely popular.  The pig races and the animal show, we have seven pig races a day and 5 animal shows, that's part of admission, a wagon ride around the park," said owner Craig Underwood.
With 44 different activities throughout the farm, Suzannah Underwood said the festival has grown in size.
There is live music accompanied by a variety of different foods.  Horse-drawn wagon rides are led by farm owner Craig Underwood.  The farm also offers a large pumpkin patch where you can pick one to take home.
"I think it is fabulous, it is great for the kids," said visitor and venue worker Kathleen Johnston about the Fall Harvest Festival.  "I think it's good for the children and the young people to see the whole farm life with the animals and hay and where things come from."
Venue worker Debbie Gutzmann said Underwood Farms is very accommodating to everyone's needs, as people of all ages were invited to attend.
At the festival, vendors were also selling fall-related products.
A group of students from California Lutheran University volunteered at a similar fall-related event, the Pumpkinpalooza festival, on Saturday, Oct. 7 in Agoura Hills, which featured live music, a pumpkin derby and other activities.
Aside from the Fall Harvest Festival and similar events including the Pumpkinpalooza, students can explore multiple pumpkin patches not far from Cal Lutheran.  The Stu Miller's Pumpkin Patch located off of Thousand Oaks Boulevard and Lombard Street offers a wide range of pumpkins as well a few amusement rides.
Reign of Terror Haunted House is currently open on select dates in October.  The haunted house is located in the Janss Marketplace in Thousand Oaks.  Reign of Terror is the single largest indoor haunted house in Southern California.  It has eight inter-connected attractions in which each area has a different theme, said Peter Rankin, who works at Reign of Terror, in an email interview.
The eight themes are: Miner's Revenge, Asylum, the Victorian Haunted Mansion, Backwoods, Casa Blood, Infected, Quarantine and Fun House. The haunted house is always under construction  to switch things around so it is not the same each time.
On Oct. 21-22 in Calabasas there is the Calabasas Pumpkin Festival, which will have live bands and market place vendors.  The Pumpkin Festival will have food and professional pumpkin carving.  Attractions will include Halloween carnival games, contests, reptiles and bug shows.  On Saturday morning there will be a costume parade and car displays.
More information on fall events in the area can be found on the Conejo Valley Guide website.
Jack Hoy
Reporter