Veteran Returns To School To Help Others
Juan Hernandez has been at California Lutheran University since August. He might be seen in the gym, the Veteran's Resources Office or walking around campus with his thick, dark hair and wide framed glasses. The 30-year-old sophomore started his first semester in pursuit of a psychology degree.
Hernandez enlisted in the U.S. Army in 2006, and medically retired in 2011. During the time he served, he lost the lower half of his right leg and now wears a prosthesis. Beyond the hair and glasses, his prosthetic leg is a signature part of Hernandez's look.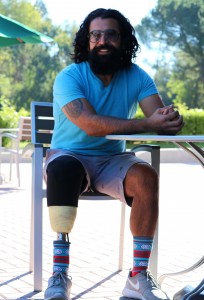 "My helicopter got shot down during one of our nighttime missions and we got hit with an RPG [rocket propelled grenade] and it hit my side of the helicopter where I was standing," Hernandez said. "So, the shrapnel and everything that came with the explosion itself just pretty much took out a lot of my leg, my lower right leg, which they were not able to save. It was an automatic amputation."
Hernandez said the loss of his limb did not get in the way of his own personal goals. 
Alicia Nibarger, an employee in the Veteran's Resources Office, has had the opportunity to interact with Hernandez during the two months he has been part of Cal Lutheran's student body.
"From what I know, he doesn't really let [the amputation] affect him in a bad way. He's really strong mentally, it seems. From the way he talks, he seems like he has a lot of wisdom," Nibarger said.
By adopting a positive attitude from the start, Hernandez said he did not have to deal with the bitterness or anger that could have come with his amputation.
"I never allowed it to affect me in a negative way. As soon as I could get out of bed and start rehabilitating, I did so. I started going to therapy; I wanted to be active again," Hernandez said. "My goal was to start walking on a prosthesis as soon as possible, eventually start running again and just do what I was doing before."
Following rehabilitation, Hernandez said he recognized certain goals he wanted to accomplish. Hernandez chose Cal Lutheran because he wanted to get his degree to go to graduate school for occupational therapy. Eventually, Hernandez would like to work with kids who have disabilities.
"He wants to help people therapeutically, he's talked about that, and I know he has a heart for children," Nibarger said.
Dan Manrique met Hernandez through a mutual friend at a Pilates class at Cal Lutheran. Like Hernandez, Manrique is also a veteran. He said they have built a relationship on this shared trait and Hernandez's "moving forward" mentality.
"He's had friends who've been killed, he's been through stuff," Manrique said. "And to have that positive attitude, from what I've seen, he doesn't put anyone down."
Manrique said Hernandez's "warm, welcoming presence" was one of the first qualities he noticed.
"I think that's awesome because you can easily, especially for [veterans], carry some type of weight with you, and some of the guys stick to their own, they wouldn't go to Pilates, they wouldn't do stuff like that," Manrique said.
Measuring life by the opportunities and how fair it is to everyone seems too common, Hernandez said.
"I think that the way we react to our experiences and what happens to us defines who we are, because we can either let it affect us in a negative way or a positive way, and it is up to the individual to do that," Hernandez said.
Lara Santos
Reporter