Regals Start Season With Sweep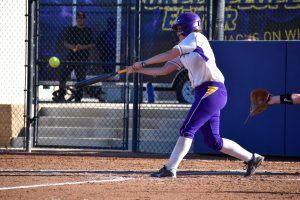 The California Lutheran University Regals Softball team started off their 2018 season on the right foot with two wins against the Pacific Lutheran University Lutes this Saturday here in Thousand Oaks, California.  After coming off the 2017 season by getting fourth in Southern California Intercollegiate Athletic Conference, the Regals were back and ready for action, excelling both offensively and defensively against the Lutes, winning 2-0 and then 6-1.
Head Coach of the Regals Debby Day was proud of her team's performance and excited for the rest of the season after coming off of two wins against the strong competitors of PLU.
"I feel like it went pretty well," Day said.  "I feel like our pitching was really good. We threw a lot of strikes and kept the defense busy."
Strong pitching was seen during both games during the Regals' opening day, with first year Sienna Perez pitching the first game and sophomore Olivia Serrano closing out the day in game two. Perez threw a complete game shutout in her collegiate debut while surrending seven hits and no walks. Serrano was also extremely impressive, allowing only one earned run through seven innings of work in a complete game of her own.
Regarding defense, senior second baseman Mikaela Mayhew and senior third baseman Olivia Leyva were key leaders in the infield, making crucial plays to help put the Regals on top along with senior first baseman Makenna Pellerin.
"Mikaela Mayhew, who's at second base, did a spectacular job and made some ridiculous plays.  Olivia Leyva at third had some great plays," Day said.  "I think that if you know Cal Lutheran softball, we are always strong defensively.  It's something that we are really serious about."        
Leyva led the Regals on the offensive side going 2-4 with two walks and one RBI on the day.
Having a defensive mindset, the Regals showed their dominance by making big catches and huge plays during both games in the infield and outfield. 
"We work on defense a lot.  Everyday, we're working our ground balls and everything, so I'm not surprised that we performed like this, but it was a lot due to our pitchers I think," Mayhew said.
In the outfield, while the Lutes battled back with some big hits to right field, strong plays and huge catches were made by sophomore outfielder Catherine Slabaugh. Slabaugh also contributed at the plate in game two with a bases-clearing triple to left-center field. This gave the Regals some much-needed separation from their opponents.
"We made two relays in the outfield to get two outs, one out at the plate and one out at third ,and those are really not things you expect this early in the season, but I think having such an older team, we have six seniors who have been with me for four years now, and it really showed today," Day said.
Looking forward to the rest of the season, Mayhew and Leyva are optimistic about what's to come for the Regals.
"I feel very optimistic about our future and this season, mostly because we may have made some big plays, but at the same time, our pitchers throw those pitches that those batters are able to get ahold of so that we're able to make those big plays," Leyva said.  "It's really a team effort and I'm excited for what the future has in store for us."
Having come off the first day with two big wins, Day and the team are ready to continue to work hard the rest of the season, continuing to focus on defense and getting runs on offense. 
"We hit the ball well today, which is something that we've struggled with. We were able to score runs today and come through with runners on base," Day said.  "I think all in all it was a really great first day."
Alexa Barnes
Reporter