Gallegly Center on Track for May
Construction of the Elton and Janice Gallegly Center for Public Service and Civic Engagement continues to run on schedule for its opening in May.
Associate Vice President of University Advancement Kristine Calara said the project should be completed in May
"We're shooting for May 6; that's roughly a week shorter than what we originally put out,"  said Associate Vice President of Planning and Services Ryan Van Ommeren at Facility Operations and Planning. "We're trying to get the dedication done a week before commencement."
In a letter from the Board of Regents chair to California Lutheran University faculty, the Board addressed concerns about the noise in the Pearson Library during finals week. Construction was halted pending a response from the chair and resumed Dec. 18.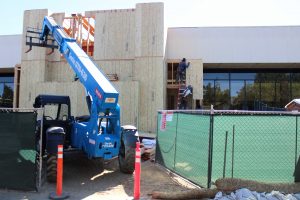 Despite this delay, Van Ommeren said that good weather has been helping the construction stay on track. He said that only two days have been lost to rain.
"Inside of the library, we had to bring in some electricity and some communication cables," Van Ommeren said. "We did that over Christmas break to avoid any conflict."
Rajan Singh, a Cal Lutheran  student who frequents the library, said he returned from winter break to see many changes in the library.
"I thought that they were all a part of the Gallegly Center, but I found out it isn't," Singh said.
Van Ommeren said it is simply a coincidence that work such as changing the library's light fixtures and carpet are happening at the same time as construction of the Gallegly Center.
Calara said there haven't been noise complaints, except for one day last week when construction ran longer than expected.
"We did have some noise complaints. We had to take off part of the existing roofing, a steel deck they call it, so that went slowly," Van Ommeren said.
Van Ommeren said that the process began at 7 a.m. and was supposed to be finished around 9 a.m. It was done slowly, so it wasn't finished until noon.
"It was unfortunate, but it had to be done because it was holding up the framers. They had to frame up through this thing that was taken out," Ommeren said.
Calara said that such an issue will be avoided in the future.
Van Ommeren also said that the lack of noise complaints could be due to the fact that the structure is separated from the building, connected by breakaway material.
"Even though some may say it's noisy, it would be a lot worse if it was actually connected to the building," Van Ommeren said.
Van Ommeren said there was only one significant change to the Gallegly Center, which was caused by structural details being "a little off" in the old drawings of the library. He said this was not out of the ordinary.
"The skylight was pictured as a pyramid, but because the framing is different than we thought it was, the skylight has to rest on the front and back of the existing library opening. So now that's going to be an A-frame," Van Ommeren said.
Singh said it is difficult to imagine what the building will look like.
"I guess we'll have to wait and see what it all comes out to," Singh said.
Brandy Alonzo-Mayland
Reporter