Former Music Director Dies at 87
Former California Lutheran University music director and composer Elmer Ramsey died Feb. 9 at age 87.
According to a family statement given to Cal Lutheran, Ramsey was born June 3, 1930 in North Dakota. Ramsey grew up loving music from a very early age. After the family moved to Washington, Ramsey began playing the trumpet professionally at the age of 14.
After college and doing studio work for big-named networks, Ramsey moved to Thousand Oaks in 1965 to become a music professor at Cal Lutheran. He also became the music director and conductor of the Conejo Symphony Orchestra which originated as the college community symphony.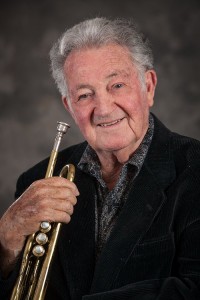 Ramsey composed Cal Lutheran's fight song, part of the alma mater and "Hail Kingsmen," among other tunes. He conducted the student orchestra at Cal Lutheran as well as the Conejo Symphony and Conejo Pops Orchestra.
"Not only was he an outstanding conductor, a first-rate composer and arranger, but he was also a very fine trumpet player who played professionally throughout most of his life," said Wyant Morton, Cal Lutheran music professor. "His greatest strength was his electicticism. His love was conducting the great orchestral repertoire of the classical master composers, but he was equally at home conducting Broadway musicals, jazz standards and popular hits."
Alumni Jim and Susie Wilbur studied under Ramsey in the early 1970s. 
"He was a very wonderful man," Susie Wilbur said. "For most of us, he and his wife were like parents away from our parents. He took care of us and nurtured us, we sang with him and had him for instruments. It was one of my favorite classes."
After graduating in 1973, Jim and Susie said they continued to remain close to Ramsey as they sang professionally for him for many years after.
"We soloed with the symphony and when he recorded with his trumpets," Susie Wilbur said. "He taught us a lot and we loved performing with him."
According to the family statement, Ramsey was also involved in the development of the Thousand Oaks Civics Art Plaza, which opened in 1994.
"My most cherished professional memory was being asked by Elmer to help prepare a massed choir of students and community members for a performance of Beethoven's ninth symphony for the opening of the Civic Arts Plaza," Morton said. "And of course it was a very electric concert."
Ramsey is survived by his wife Elaine J. Ramsey, five children who all attended Cal Lutheran, seven grandchildren, five great-grandchildren and one great-great grandchild.
The memorial service is to be held on Saturday, April 28 in the Samuelson Chapel.
"He had a very special calm and gentle spirit," said Morton. "He taught me a lot and he will be greatly missed."