Iranian-American immigrant with a passion for social justice
"How can I be a white person on paper but be called a terrorist all the time?" Parnia Vafaei said.
Vafaei is an Iranian-American dual citizen who calls both San Diego, California and Tehran, Iran home.
At the age of 4, Vafaei moved from Iran to sunny San Diego with her mother. Her father followed them the next year. Her family later relocated to Irvine and then Del Mar, where she grew up in an affluent, white and conservative neighborhood.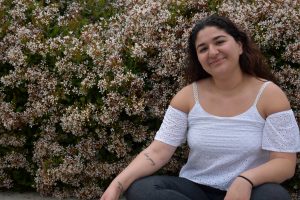 "In Iran you're not really allowed to be who you are; you're trapped in a bubble. That was one of the main reasons my mom wanted to move. She always says she wanted to be able to breathe and live her life how she wanted," Vafaei said.
As Vafaei grew up, her parents continued to instill in her their Iranian culture. She went to Iranian school where she learned to read, write and speak Farsi.
Because her mother grew up during the Iranian Revolution, Vafaei's parents never forced religion or politics on her.
"The reason politics wasn't a huge thing in my childhood is because my mom feels as though it ruined her childhood. She had friends killed and taken to jail for antagonizing the Iranian regime," Vafaei said.
Though politics weren't present, Vafaei remembers 9/11 and the effects it had on people of color. Vafaei recalls the racist remarks that came her way growing up.
"Beginning in Kindergarten, bullying definitely started because I looked super different. I'm Middle Eastern, I didn't look white, especially in the Christian Kindergarten," Vafaei said.
She said that she had close friends that were progressive. Vafaei's childhood experiences influenced her growing passion for social justice as she remembers being called a terrorist growing up.
"Growing up being called a terrorist and having negative slurs thrown at me, it brought out the passion of justice in me," Vafaei said.
As Vafaei grew older and became a voting citizen, her involvement in politics and interest in social justice became very present in her life as a newly developed passion.
"When Trump was running and eventually was inaugurated, I definitely got more involved and read up on things—it gave me a reason to care. I'm older now, I'm more educated and I have the ability to understand what's going on," Vafaei said.
Claudia Pasillas, a friend of Vafaei's at California Lutheran University, believes her Iranian heritage has helped shape the person she is today.
"She speaks Persian, she celebrates all the holidays and she's really close to her family, especially her mom, who has raised her into the young, caring woman she is," Pasillas said.
Vafaei's passion for Iran grew to be at the forefront of her social justice, as she believes that there is little known in America about Iran. With the little knowledge people have of the country, the snap judgements begin to be all that people know of it. Vafaei shared that she felt as though Iranians are not only antagonized by their own central government, but also by the entire world.
As an immigrant and a recent American citizen, Vafaei said she knows the struggles that immigrants in America face and the fears they possess. Vafaei said that among the many day-to-day fears she has, one that will always be present is the fear of being deported.
These fears do not and will not hold Vafaei back as she said she wants to live out her life shining light on the Iranian culture and people.
"I grew up looking up to white men in the business and tech world but I don't look like them. Eventually, I want to become important or influential enough to the point that I become a role model," Vafaei said.
More specifically, Vafaei would love to get involved in the legal system working with immigrants, as she has first-hand experience with the matter. Whether she finds herself teaching them about their rights or is defending an immigrant in court, Vafaei said she will carry her Iranian and American heritage with her wherever life takes her.
Vafaei's friends said they all agree that she is an individual who can and will use her upbringings and personal gifts to influence those around her.
"She is such a caring person; I know she's going to make an impact on people's live," Pasillas said.
Maddie Collins, another one of Vafaei's close friends from school, said she believes that Vafaei is destined to change the world. Collins and Vafaei lived together their freshman year before Collins transferred to a different university. The two friends remain in close contact, talking almost every day.
"I think she'd change the world by giving those who suffer in silence a voice. When she sees people who fall victim to the world's perpetuating problems, she too feels their pain and the urge to stand with and for them to make a change," Collins said.
Both Pasillas and Collins agree that her passion for justice and her care for the individual will take her far in life. There is no doubt in Vafaei's friends' minds that she will continue on to be a person who changes the world.
Catherine Slabaugh
Reporter