Regals Prevail Over Panthers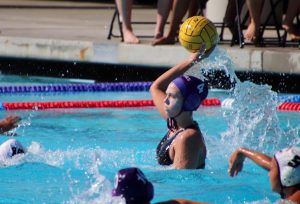 The California Lutheran University Regals' water polo team tallied another win in their books on Wednesday, April 11, beating the Chapman Panthers 7-5. 
In the pool, sophomore center Victoria Rose Meek lead the way for the Regals, scoring a hat trick against the Panthers after finding the goal twice in the first quarter and once in the third.
"I thought overall as a team we did a really good job communicating on offense and even though we would go down on the score we would still march up to the line and then hit them again," Meek said.  "I thought everything went well today—we flowed really nicely in the pool, which I think is what lead to a hat trick."
Another key component for the Regals' win against the Panthers was sophomore attacker, Mackenzie Thomas, who added two goals for Cal Lutheran. 
"I felt pretty good in the pool today," Thomas said.  "I had two goals and then we all just worked really hard to work the ball around on offense even when our sets sort of got shut down, but it was a team effort that really got us through it."
After starting off a bit shaky on defense, the Regals came together as a team to shut down Chapman's offense.
"I think we played really well," Thomas said.  "Our defense was a little rough at the beginning, but we sort of figured that out and shut down their offense by quite a bit."
Head Coach of the Regals, Craig Rond, was also in good spirits on Wednesday after Cal Lutheran defeated Chapman, highlighting one of their keys to victory in their defense.
"Well, as usual our defense really shined today.  We always talk about defense first and that's what they did. We're not surprised that they played great defense," Rond said.
Though the offensive side did their job, Rond said he is hoping to make some additional improvements before the Regals head into the Southern California Intercollegiate Athletic Conference tournament.
"I think on offense we were a little hesitant to take some of the easier shots and that got us a little stagnant, but at the end of the day if the defense is going well then you're going to be in the game," Rond said.
One of the keys to the Regals' defense is junior goalkeeper Bailey Meyer, who had 11 saves in the pool against the Panthers.
"There's nobody better in our conference at goalkeeping than Bailey.  She's averaging around 10 saves a game right now I think," Rond said.  "She is literally the foundation of our defense and our girls really feed off her blocks—she's a great goalie."
As for his team on offense, Rondsaid he prides Meek as one of his top competitors in the pool.
"She (Meek) was three for seven shooting and she's a dominant force at center for us," Rond said.  "She does a great job of not only scoring but drawing exclusions for us and she plays really good defense—she's an asset for us."
Heading towards the end of their regular season play, the Regals are looking forward to competing in the upcoming SCIAC tournament and tuning up their offensive pass work in the pool.
"We'll be working a lot in practice on quicker passes to get more scoring opportunities," Meek said.  "I'm very excited to see where we go as a team. I think we have not just potential but we're doing really well overall—I'm excited to see how SCIAC goes."
Currently ranked second in the nation, Rond and the rest of the Regals are geared up and ready to take each day at a time on the road to SCIAC championships and potentially the national tournament. 
"We're pretty honored to be considered at such high regard, but we still have a lot of work to do," Rond said.  "Today we played well, but we need to take it day by day and keep working."
Alexa Barnes
Reporter