'My Comfort Zone Burned'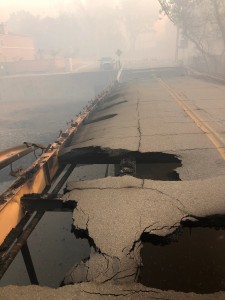 As mandatory and voluntary evacuations forced many out of their homes, five members of the California Lutheran University community recalled their experiences with the destructive Woolsey and Hill fires.
Just hours after the mass shooting that took place at Borderline Bar and Grill off of Moorpark Road early Nov. 8,  the Santa Ana winds kicked up two major wildfires that burned nearly 101,500 acres total in Ventura and Los Angeles Counties.
The Woolsey Fire, which burned for 13 days and destroyed nearly 1,500 structures, claimed three civilian lives and injured three fire fighters, according to CALFire. Additionally, the Woolsey Fire forced more than 250,000 people out of their homes while under mandatory evacuations, according to CBS News.
Junior Christian Slattery, whose Point Dume, Malibu home was destroyed by the Woolsey Fire, is living in a hotel in Westlake Village with his parents.
"It was obviously difficult to be displaced from your home and, of course, upsetting," Slattery said. "It's unfortunate that a lot of other people have to deal with it, too. We'll be renting a house in the meantime while we rebuild our home."
Slattery said returning to school Nov. 12 provided normalcy for him to ease back into during the aftermath of the Borderline tragedy and after losing his home.
"My professors have all been accommodating and have been helping me out by giving extensions to my homework," Slattery said. "I think everyone's been super helpful making the experience for me as easy as possible, considering the circumstances at the time."
Slattery commutes to Cal Lutheran and said that although he was stressed out over losing his home to the fires, he is grateful for the support of his loved ones to help him through the situation.
Senior Carolena Huseby, who has lived in the Thousand Oaks neighborhood of Oak Park her whole life, said she and her family had to flee their home the night of Nov. 8. She returned days later to find that the hill behind her house had burned right up to her property gate. She said that "the whole city of Oak Park is black."
Huseby said she and her family were at dinner with friends when they began to see notifications about the Woolsey Fire potentially spreading to Oak Park. She said they filled up cars with gas and had their cars packed by 9:30 p.m. By 10:45 p.m., they were under mandatory evacuation.
After going to a friend's home in the North Ranch neighborhood of Thousand Oaks, Huseby's family ended up being evacuated once more, sitting in a Ralphs parking lot wondering where to go next.
"We were just sitting in complete and utter silence," Huseby said. "I've never known what life is like outside of my own home. My comfort zone burned."
Huseby and her family went to stay with other friends in Ventura. They did not know their house was safe until her dad returned home Nov. 10 to their neighborhood, where about 10 houses had been destroyed.
"I'm still adjusting to being home," Huseby said. "You feel, like, out of rhythm."
Greg Monterrosa, community manager for Hub101, got into a rhythm of taking action. Monterrosa spent his weekend putting out fires in the area around the startup collaboration space located in Westlake Village.
The night of Nov. 8, Monterrosa and Cal Lutheran alumnus Evan Brandt drove to Monterrosa's Agoura Hills neighborhood, which was under evacuation from the Woolsey Fire. They helped people evacuate horses and brought people water until early Friday morning.
"The horses were hot and needed water, so Greg [Monterrosa] and I went back to the house to get buckets of water for them. I haven't heard about any deaths of horses that we weren't able to save," Brandt said.
After packing up his belongings, Monterrosa said that he and about five others stayed overnight at Hub101 until they learned that Westlake Village was being evacuated the next morning.
"My attitude was I'm not going to leave my community until I'm exhausted," Monterrosa said.
The evening of Nov. 9, Monterrosa was driving on Agoura Road when he saw a group of people working to put out a fire. With a shovel and a rake in the back of his car, Monterrosa helped put out what he estimated to be at least 10 fires around the Westlake Village and Agoura Hills area.
"That's been my life pretty much this entire weekend," Monterrosa said.  
Monterrosa said Hub101 hasdsince re-opened by Monday, Nov. 12.
"If students are able to access Hub101, the space is available to be utilized as a community," Monterrosa said. "I'm just doing what anyone else would do at Cal Lu."  
Sophomore Timothy "Tim" Hillman said he had to evacuate his home in Oak Park off on Conifer Street with his family. Hillman said firefighters told him he had to leave his home around 1 a.m. on Nov. 9.
"I went to my aunt's house in Calabasas with my family, which we stayed at until 5 a.m. and then, at that point, we saw flames coming over the hills there, just over by the landfill in Calabasas," Hillman said. "After staying there for four hours, we went out to Canoga Park to stay at my mom's cousin's house and went there for a little bit of Friday and ended up going back to my home with my family that Friday night."
Hillman said his family is safe back in their Oak Park home. Hillman said he is "doing fine" but admitted that he was "feeling down" after the Borderline mass shooting early Nov. 8.
"When the fires hit, it was almost a distraction for me and took my mind away from all that because I was really down," Hillman said. "On Thursday morning, I was watching the news but once the sun came up, I went hiking because that's the way I find solace."
Hillman said he helped his father and one of his father's friends, a volunteer firefighter, hose some of the houses down for the entirety of the weekend.
The Echo
Editorial, Reporting Staff