Coaches debate SCIAC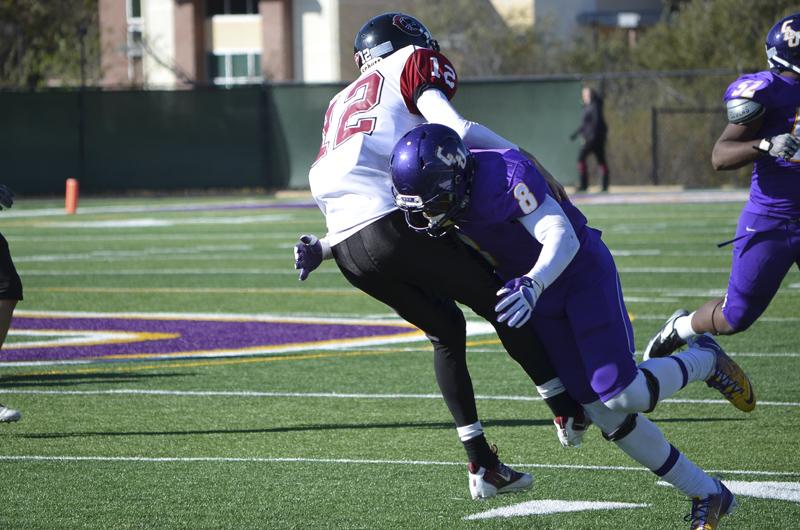 Every team's initial goal is to win a Conference championship. But the recent eliminations of the three powerhouse sports at CLU after winning their Conference titles has raised questions about how good SCIAC actually is.
The question is whether or not California Lutheran University gets enough competition from within their conference to ultimately prepare them for the postseason.
Cal Lutheran's volleyball, football and women's soccer programs all made early exits from the playoffs after absolutely dominating their SCIAC opponents throughout the fall season.
Kingsmen football won their fourth consecutive SCIAC title this season, but they also recorded their fourth consecutive first round playoff loss.  However, coach Ben McEnroe is not placing the blame on their facile opponents.
"Every opponent prepares us for the playoffs in some way or another, whether in or out of the Conference.  We intentionally play a challenging non-conference schedule to prepare us for our Conference, especially with our biggest SCIAC challenge coming so early in the year," said McEnroe. "At the top of our Conference, you see some similarities to the playoff caliber teams we've faced, but for the most part, SCIAC teams do not look like the top 10 teams in the nation that we've encountered.  But to say they don't prepare us for the playoffs is not true."
Regals volleyball won their third consecutive SCIAC title this year and lost in the regional championship after getting all the way to nationals the previous season. But three teams in this year's regional competition represented SCIAC and two teams in last year's, which is why head coach Kellee Roesel has no issue with the Conference.
"I think the SCIAC was really strong this year. It's kind of a year to year thing, but for the most part I've always thought it to be a really strong conference in the West Coast. I think that it proves itself with the teams that come out of the west in terms of nationals. I thought it was as competitive as it's ever been. I think it's going to get better so I do think it prepares us very well for playoffs," said Roesel.
Women's soccer also won their third consecutive SCIAC title, but lost in the second round of the NCAA tournament. Even so, head coach Frank Marino is pleased with SCIAC.
"I believe the Conference is great preparation for the NCAAs," said Marino. "Our strength of schedule is one of the best in the West Region which helps us in getting berths to the NCAA tournament."
Chapman University was added to SCIAC this year, which according to Athletic Director Dan Kuntz made the Conference even stronger.
"The SCIAC is probably in the top 10, maybe even in the top five in the nation with the addition of Chapman, in regards to the strength of Conference for baseball," said head baseball coach Marty Slimak.
The Kingsmen baseball team missed out on a regional by three games or less the past three years. From a baseball standpoint, SCIAC is incredibly stacked from top to bottom.
Over the years a SCIAC participant has consistently been in the College World Series according to Slimak. CLU represented SCIAC five times. La Verne was there and they won a national championship. More recently, Redlands, La Verne and Pomona have all made regionals. Chapman won one national championship at the D2 level before their D3 title.
Chapman used to be an independent school, which meant it was not affiliated with any conference. When asked about the idea of CLU becoming an independent, all coaches except Slimak were against the idea.
"If you were smart, you'd want to be an independent like Chapman was because they were the best independent in the nation," said Slimak. "If Cal Lu and Chapman were independents over the past few years, then we would have both fought for a regional spot every year."
Kuntz saw the pros and cons of being an independent.
"If you want your athletes recognized, there won't be any league awards. So a league team can sell that to an athlete where an independent, can sell them making it to a regional every year. If you're an independent you can be more flexible with scheduling games, but that means you also have to do all that work, which means more expansion, more travel and more time away from class just to have a schedule in place," said Kuntz.
The addition of Chapman brought to the table the possibility of adding more teams to the Conference, as well as teams being removed from SCIAC to increase its competitiveness.
There are no teams that fit the SCIAC criteria to be nominated for addition.  Chapman figures to be the last school that will be added for a while.
Removing teams becomes tricky. One school's failure at a sport has no bearing on the performance of another sport. For example, Pomona has been very poor at football, but is always in the top half of the Conference for baseball.
It seems for something like this to happen, every sport would have to underachieve year after year for an extended period of time.
Every team underachieving leads you to the conversation of how to handle CalTech.
"From a competitive side I don't think CalTech ever helps us," said Roesel. "When you try to make the playoffs, unless you're an automatic qualifier, it all comes down to the strength of your schedule and they haven't won a match in I don't know how many years, and I think that's true for most of the sports at CalTech if not all of them."
Kuntz does not see it this way. He'd like every team to stay and continue to strengthen, including CalTech.
"A lot of people would say, get rid of CalTech. I don't agree. They have new leadership, they've made strides in some areas, they still have a lot of growth to do, but this takes time. It's a process. If CalTech begins to adjust what they do to bring their programs in to more competitive light, you're going to see more consistency across the Conference. And I have all the confidence in them doing that," said Kuntz.
Kuntz noted that another problem with SCIAC is it doesn't get the national attention it deserves.
"Our league is geographically separated from many other leagues. So having the opportunity to play these other schools to see where we are would be nice and coaches are reaching out to do that," said Kuntz.
All SCIAC can do right now is continue to strengthen.  McEnroe, Roesel and Slimak all see that happening in their respective sports.
"You can look at any conference and you're going to find one school that's down for a period of time and all of a sudden they're popping up somewhere and someone else is dropping. It's all cyclical and procedural in my view. That's what I've seen while working here," said Kuntz.
Craig Jacobson
Staff Writer
Published Dec. 12, 2012