Regals split the weekend, honor two seniors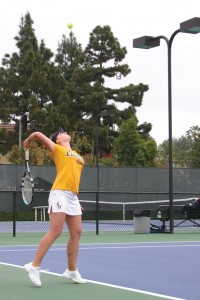 The Regals tennis team got back in the swing of things during their match against Occidental College on Friday, April 12, at the Poulson Tennis Center, with an 8-1 win.
The players started the day off strong, taking the doubles matches 3-0. The No. 1 doubles team of freshman Emily Werman and sophomore Sarah Baker had an 8-1 win. Senior Lauren Toohey and sophomore Jacqueline Ramsay took their match 8-3, while junior Lindsay Murphy and senior Carly Mouzes beat an Occidental duo 8-0.
"We chart our success not on our outcomes, but on our improvements. It's essential to always set up for the next match with better strategies and a better handle on our capabilities," said Mouzes.
Only one loss was suffered in the singles matches by No. 1 Murphy. No. 2 Werman won 6-0 and 6-1. No. 3 Baker won 6-1 and 6-4. Mouzes, the No. 4 player, won both her matches 6-0. The No. 5 player, Toohey, took both her matches 6-2, while No. 6 Ramsey won her match 6-4 and 6-2.
"I think that one of the strengths of our team is that we have a fighting mentality," said Toohey. "We each have the desire to win matches and do whatever we can to make that happen. I also think that our team is not afraid to try new things. We take the advice our coaches give us and use it to improve our games."
Saturday's match against University of La Verne was unfortunately a hard loss, as the Leopards defeated the Regals 9-0.
Doubles Werman and Baker had a tough fight, losing 8-6. Toohey and Ramsey were swept on the second doubles court. Mouzes and Murphy lost their match 8-5. The singles matches were all close runs for the Regals. Mouzes and Ramsay each went into tie-breakers, neither defeated their opponent.
"Losses are a part of any sport and it is easy to get down on yourself when they keep happening. Our coach, Vanessa McPadden, continually reminds us about recognizing the many blessings we have been given, and I think that has been extremely helpful during this tough season," said Toohey.
Saturday's match was Senior Day for Mouzes, from Wilton, Calif., and Toohey, from Thousand Oaks.
"It has been quite an experience to play all four years of college tennis, and I am so thankful for all of the life skills I have gained.
Learning how to be a team player has been something I have worked on while on the tennis team, and I know that this will be an important skill to have in the work force. CLU has given me so many opportunities to learn and apply myself and I am so grateful for that," said Toohey.
The Regals will compete in the SCIAC tournament at La Verne on May 3 and 4. They are currently ranked seventh in league standings.
Caitlin Dimmitt
Staff Writer
Published April 17, 2013