Kingsmen ready for postseason push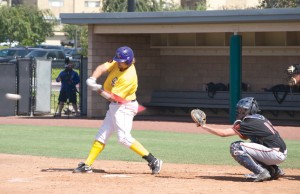 The stands were quiet as fans respectfully acknowledged the senior baseball players at Ullman Stadium on Sunday April 28. Following the Kingsmen's 14-game win streak and first regular season SCIAC Championship in 12 years, it was a day to remember for players Nick Boggan and Trevor Koons who broke all-time records. Koons became CLU's career hits leader and Boggan garnered a season record for RBIs.
"When reading the statistics, it's a bit surreal to think I completed 60 runs. There is no way I could have had the sort of success I've had without my great coaching staff and consistent support from my teammates. There is no team that I could rather go to Regionals with than this group of guys this year. What a great season we have all had," said Boggan.
After a long week of games for the Kingsmen against Claremont Mudd-Scripps, La Verne, Chapman and Caltech, the boys ended round robin play with a 3-1 record.  California Lutheran University handled the stags easily, winning 14-1 on Wednesday. Unfortunately, their 15-game win streak came to a close on Friday when they fell to La Verne 2-5.
Needing every win to solidify its No. 2 ranking in the west region, the team bounced back the next day when they hosted Chapman, winning in extra innings 6-5. After the Chapman game, the Kingsmen defeated Caltech 9-0, ending their regular season with a sweep on Sunday.
Freshman outfielder Ramsey Abushahla had his shot with the big dogs and stood proud among the senior-dominated team in such a crucial time.
"This team has provided a great learning opportunity for us younger guys, and the upperclassman have definitely instilled valuable lessons about the game. We are really lucky to have the chance to play right now in this crucial period of play and our hard work as underclassman has begun to pay off. Hopefully we can continue our high level of play in the following years as we are losing a lot of a strong senior players this May."
Koons and Boggan realize that no matter what the outcome of this season, they have been a part of a team that has given their heart and soul to the sport of baseball.
CLU did not lose a SCIAC game at home the entire season and hope to continue that streak, as they will host the Inaugural SCIAC Baseball Tournament. Being regular season champs, the Kingsmen have earned a No. 1 seed and prepare to host the No. 4 team on Friday at 3 p.m. With pride and enthusiasm, they look to their future with hope of winning an automatic bid into the NCAA tournament and attending Regionals in Austin, Texas, which would be a huge accomplishment for CLU.
Abby Sturgeon
Staff Writer
Published May 1, 2013