With marriage equality now legal in a majority of U.S. states, supporters of marriage equality are celebrating and opponents are scratching their heads, desperately trying to figure out how they can stop this tidal wave of equality that is sweeping across our nation at a rapid speed.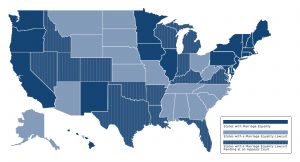 Opponents of same-sex marriage (including a large portion of the Republican party) have, for a long time, believed in propositions, of subjecting the issue of same-sex marriage to a popular vote. They have dedicated time, effort and millions of dollars to make sure that same-sex couples are treated as second-class citizens, hoping their love and commitment for each other won't be recognized by the government.
"The sensible part of the Republican party would just say leave the social issues, leave same-sex marriage and abortion," said Dr. Herbert Gooch, professor of political science at California Lutheran University.
Heterosexuals are undoubtedly the majority and despite recent studies showing that a majority of Americans support marriage equality, they have time after time approved bans on same-sex marriage when given the chance. California's Proposition 8 is one example. The proposition banned same-sex marriage in the state of California in 2008. It was overturned later but it demonstrates why our nation's handling of civil rights is highly problematic.
Let's just be honest. Allowing the majority population to vote on a minority group's civil rights is a really bad idea. Democracy is amazing, but not when it's being used to suppress, discriminate and disenfranchise. It's called civil rights because it's a right. It's a fundamental right we are entitled to. Marriage equality is not something heterosexuals should be allowed to vote to approve if they're feeling particularly open-minded on voting day. As we are continuously allowing states to subject the issue of marriage equality to the popular vote through propositions, we are telling the American public that it is their business if two random people want to get married. It's not.
We have accepted that people vote against legalizing marriage equality because they feel it goes against their religious beliefs, blatantly ignoring the fact that the United States is a country founded upon the principles of separation of Church and State.
The fact that there's a huge demographic of religious Americans walking around and thinking that they have the right to vote on someone else's marriage is preposterous and our current judicial handling of civil rights legitimizes their irrational thoughts.
Not all religious Americans are bigoted but bigotry doesn't discriminate. It transcends age, sex, race, ethnicity and religious or spiritual background. This is why civil rights, such as marriage equality, should not be subjected to a vote. When the majority population strips an oppressed minority of their basic human rights, our system is deeply flawed.
Republican politicians and voters, especially those with a religious background, have formed the strongest opposition to marriage equality. They usually don't call themselves "anti-equality", but prefer to call themselves "defenders of marriage".
"'Defense of Marriage' activists have lost the fight", said Dr. Jose Marichal, associate professor of political science at California Lutheran University.
"There is already a majority of Americans supporting same-sex marriage, and the only reason why it isn't sixty or seventy percent is because people over forty-five are still very opposed to it," Marichal said.
The U.S. Supreme Court needs to stop avoiding this issue. Despite ruling parts of "The Defense of Marriage Act," which banned same-sex marriage federally, as unconstitutional, it has been hesitant to really do anything significant for marriage equality. State supreme courts are the reason why marriage equality is a reality in the majority of U.S. states today. We need a federal law legalizing same-sex marriage in all 50 states and we need the U.S. Supreme Court to say that banning same-sex marriage is unconstitutional.
Karl Kleppe
Published October 15, 2014