Campus clubs step up table game
The biannual California Lutheran University Involvement Fair took place on Sept. 14 by the Spine. Students had the opportunity to sign up and learn more about the various clubs offered on campus.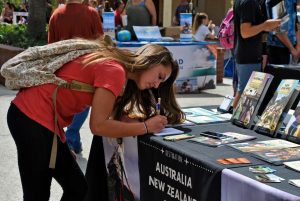 Unlike other colleges that solely provide a list of campus clubs online, Cal Lutheran provides an interactive way to converse with different clubs and recruit members.
Club tables included free food, clothing and posters. iCLU Radio exhibited a giveaway wheel with prizes such as campus bookstore gift cards. The Her Campus club even showcased a life-size Polaroid cutout to take photos with in order to draw students in.
"It's held at the beginning of the semester just so that the first-years can see all they have as a possibility to get involved,"  Ri'chard Caldwell, coordinator for student involvement wellness said. "We put it out during the busy traffic hours so people walk before class like 'oh, what's this?' They accidentally get involved and just feel more acclimated to the university."
When students walked  through Regals Way, they could first set eyes on the Tang Soo Do club table by the flagpole. Senior Elena Schink, president of the club, displayed club shirts as well as demo shirts that are worn as uniforms by members during their performances.
"It's a little bit more aggressive than [karate] and because it's an Americanized version from Chuck Norris bringing it over, we have a really heavy emphasis on self-defense. Particularly, because we have a lot of girls in the club, we do emphasize women's self-defense,"  Schink said.
The Tang Soo Do club and the Feminism Is club joined forces by combining Korean martial arts with solving the commonly discussed issues of discrimination and sexual consent, ultimately producing a shared learning experience for both groups.
"[Feminism Is] had this big activity about sexual assault, racism and all these inequalities in society. Then, we taught self-defense in conjunction with that,"Schink said. "I feel like it brought awareness to it at CLU, which is difficult even though we are a really small campus."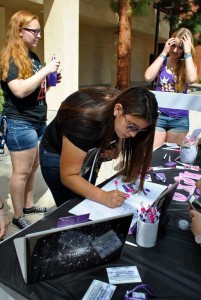 As the Involvement Fair continued, many students were seen carrying club pamphlets and publications ranging from  the American Medical Student Association to Study Abroad. Pamphlets included information about the meaning behind each club as well as their future objectives. For further exposure, clubs sampled the publications that they worked on from last year, such as Morning Glory's 2015 issue.
"I picked up pamphlets primarily for the Semester at Sea program, which is what I anticipate on doing, and for smaller internship summer programs to Australia, Greece, Ireland and France, all places which I would love to study in as well," freshman Julianna Martinez said in an email interview.
Along with outside programs, several campus clubs offer retreats and special service projects. For example Club Teach and SCTA organize a service day to help straighten out the kids section at the Simi Valley Library. Their goal is to aid the community as well as to bring awareness to their club of prospective future teachers.
Eric Kamm, transfer student and photographer of Club Teach and SCTA, said service days aid the school's reputational image while simultaneously helping students become top-notch teachers.
"It reflects well on us because we're coming from a school. So when we go out there to get new employment, we actually look better and better," Kamm said.
According to the constitutions of most clubs, students are not required to have a certain major, speak a different language or live on campus in order to join a particular club. The campus clubs are varied in their purposes so that they may cater to every student's interests and aspirations.
However, Caldwell said if a student can't find a club that fits their interests, they can start a new club as long as they have an adviser.
"You only need one person to get a club started," Caldwell said. "As long as the students know that they have the ability to start something and they feel like they can truly add to the community that is CLU, then I think the clubs will continue to grow."
Leina Rayshouny
Staff Writer
Published September 23rd, 2015