In the unpredictable world that is "Game of Thrones," no character is safe and nothing is certain. However at the 2015 Emmy Awards, far outside the seven kingdoms of Westeros, one thing was certain, "Game of Thrones" dominated the stage.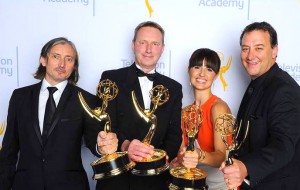 It's no secret "Game of Thrones" has experienced a reign of success in recent years. The HBO series swept the 2015 Creative Arts and Primetime Emmy awards with a total of 20 wins. Of those wins however, one was in the California Lutheran University family. Adjunct music professor Mathew Waters won at the Creative Arts Emmy's ceremony for Outstanding Sound Mixing for a Comedy or Drama Series (One Hour) for his work on "Game of Thrones."
Waters has a passion for sound mixing and has plenty of work to his name ranging from the film "The Butterfly Effect" to episodes of "Cold Case." However "Game of Thrones" is work that he especially appreciates recognition for.
"Sometimes in this industry you can get people who see this [film] as not an art form, and they just want to ram it through and get it done. The entire team at "Game of Thrones" really care about the craft so it's great to work on a show that cares about the craft of storytelling," Waters said.
Waters also won Emmy gold in the same category for "Game of Thrones" in 2012 and has been nominated for the show a total of four times.
"Everyone always says 'it's so great to be nominated' and that's totally true because while it's great to win, just to be there is real exciting. It's a big deal," Waters said.
On the ceremony itself, Waters said there was plenty of talent in the 85 categories for nomination.
"Television has come so far, as far as content and storytelling goes. Everyone that gets nominated does amazing work," Waters said.
Waters said that anytime someone gets to be around the best in the industry it is a big deal. Ultimately he said the goal of his work is to use sound to help tell the story as the creatives want it to be told. However, he said the exciting part was the after party at the Governors Ball.
"It's like going into wonderland, and like a party you've never been to. Live music, incredible food. It's a really great party," Waters said.
This Emmy ceremony was even more important to Waters personally because he brought his kids for the first time. He said it was a great experience having them there and that it was special for him to see them soak in everything.
"My mind wasn't on winning or losing. My mind was on 'wow my kids get to experience this' and that they had a great time" Waters said.
He said that he wanted his kids to experience everything, and see the diverse areas of the television industry that they could work in. He said his kids became nervous when his category came up.
"When you see your kids experience something like this it's really special. A once in a lifetime experience really," Waters said.
At Cal Lutheran, Waters teaches sound editing for film. He gives students the opportunity to learn from someone with immense experience in the field. Although he is relatively new to the Music Production Department on campus, he is already making a positive impact on his students.
In an email interview Victor Martinez, a senior music production major taking Waters' class, said he feels lucky to learn from Waters.
"In Professor Waters' class I know that I'm in the presence of success and it is an absolute honor to learn from one of the greats. He's truly inspirational," Martinez said.
Martinez said "Game of Thrones" is one of his favorite shows and to see Waters enjoy working in the industry makes him appreciate the show even more.
"When he tells us about his work he's always got a huge smile on his face. He really has nothing but good things to say about his job and we were pretty excited to talk to him about it in class," Martinez said.
Duke Clunies-Ross is another senior music production major taking the class and he admires Waters' enthusiasm for the subject.
"He's really eager to teach, and really passionate about what he does," Clunies-Ross said.
Clunies-Ross said it's really great for music production majors to have this experience working with film.
"He's a really cool guy that can really relate to us in class. I'm stoaked to have him as a professor," Clunies-Ross said.
Waters said he encourages students who are passionate about working in the industry, but warns of its hardships.
"When I talk to classes, I try to impart on them that everyone in this business loves what they do, because if they don't love what they do, this business will chew them up, kill them and spit them out. It's a rough business with tough hours, but if you love it, it's so worth it," Waters said.
As for "Game of Thrones," Waters said it's an incredible experience to work on the show.
"It's a true blessing in the sense that it's a 10-hour feature film every season. The creatives are incredibly smart and care about the finished product," Waters said.
Mary Callaway
Staff Writer
Published October 7th, 2015