Student government to review fee spending
According to the Associated Students of California Lutheran University Government November budget analysis, a funding increase for ASCLUG is to be pursued from unspent or misappropriated funding rather than an increase in student fees.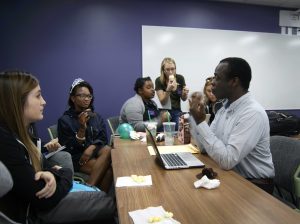 As of now, 26 percent of student fees are given to student life, 25 percent is given to student organizations and publications, and 20 percent is given to programs board, according to Article X of the ASCLUG constitution.
Jared Smith, Junior Representative for ASCLUG Senate, said that a new amendment is being proposed which includes plans to combine the funding for the community service center with the funding for Student Life, due to excess funds from executive cabinet.
"I was going over the budget and I did notice a majority of [ASCLUG's Programs Board's] expenditures come in the Spring. So, currently they do have a decent amount of money that they can spend that otherwise, if unused, would just go into next year. You don't want to waste money, but you don't want to do nothing with the money," Smith said.
Although ASCLUG Executive Cabinet collects 9 percent of funds, Smith said that it receives around $10,000 worth of rollover money per year, which can be used to spend on additional events for Cal Lutheran students. Most recently, Smith said that the rollover expenditure was used on Senate and Programs Board in order to buy Mac computers for the student government office.
"None of this is done out of poor intent but I think sometimes the student government loses sight on what its mission is. While as a senator, I appreciate the gesture and have fun at these events. As a student, if I weren't in senate, I would probably be a little upset that the money I pay is going to funding free food and things like that for senators," Smith said.
According to the Programs Board meeting minutes for October 2015, ASCLUG is spending $32,000 for the 2016 spring concert featuring Sage The Gemini, plus a potential $20,000 for food, production and security.
However, $51,000 was spent on ASCLUG's 2014 spring concert featuring Chiddy Bang with an over budget gap of $7,000. Evan Carthen, ASCLUG president, said that students who attended this particular concert preferred spring formal instead.
"The student feedback that we got from the concert was 'it didn't go so well, we really miss spring formal.' So we brought spring formal back last year whereas when we get the feedback, it was 'I wish we could've done something big like a concert. I wish we could do it again if we could get a bigger name artist'. That's what we've done this year," Carthen said.
According to the Programs Board meeting minutes for April 2014, student feedback for the Chiddy Bang spring concert was varied as program evaluations showed that a certain percentage of students feel spring formal is a senior tradition and that the particular artists chosen for concerts are unknown to the general public.
"I think there's a misunderstanding where student's desires are because without a strong fan base for whoever musician they're bringing in, the demand for a concert is never going to be as high as a demand for a dance. Because with a dance, it's a matter of if you have friends going and if you do, you're there," senior Elizabeth Roemisch said.
Although Programs Board spent $29,000 with around $22,000 left over with their budget remainder on 2015 spring formal, Carthen said that they counteracted this year's formal by providing the 2015 Monte Carlo Night.
Carthen said that the upcoming spring concert occurring on Apr. 29 will not be a rerun of the 2014 spring concert as students will only be charged $5 so that they will commit to attending.
"It goes hand-in-hand with the way student fees are right now at the $250 rate, you can't just necessarily spend here, spend there. You have to pick and choose what you want. So I think this year, the plan is to plan around this concert rather than plan around all the events and then have a concert. It's also tricky too because you can't please everyone," Carthen said.
Within Smith's budget analysis, he suggested that measures be installed in the process of allocating funding toward organizations, and senate projects in order to prevent wasteful and unnecessary spending. Smith said that this might be accomplished by putting a $200 cap on initial allocation.
"What I think we need to do is to really have more programs within senate to educate and drill down to senators how to make the best use of money. I think we're elected to make tough decisions but I don't think we're comfortable making tough decisions," Smith said.
Leina Rayshouny
Senior Writer
Published February 3rd, 2016