Going the distance time and time again
Sophomore Jonah Hobbs is a dedicated athlete and swimmer at California Lutheran University. Hobbs competes in an event most swimmers dread—the mile. Hobbs is the two-time defending Southern California Intercollegiate Athletic Conference champion in the 1650M free event.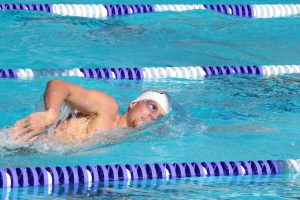 "It's an event that you choose," senior teammate Jack Acampora said. "It's his specialty, which is crazy because it's 66 laps of pure fastness, I guess you can say. If you ask any swimmer if they want to swim the mile they would say absolutely not. But he raises his hand and says 'give it to me, I'll do it.'"
Hobbs is a true athlete and he believes in himself and does not let his mindset fail him while competing.
"I definitely thought I was going to win from the beginning. It was weird because there was another guy in one of the other lanes that took it out a little faster than me, but I knew he took it out too fast and he was going to die," Hobbs said. "There was another guy that was pretty close to me. I did not necessarily think he was going to catch up to me, but I was definitely hurting. It was just in the back of my mind, but I never thought I was going to lose."
"It's our conference championship, it's the biggest meet of the year. If they are going to have a peak performance this is what we point them for because swimming is all about having a peak performance. It is not about winning and losing throughout the year. It's about a finished product at the end. It is not a game," Head Coach Thomas Dodd said.
Hobbs' teammate Acampora said he looks up to him because of his strong mindset and work ethic.
"Jonah is probably one of the fastest long distance swimmers I've ever met," Acampora said. "He is probably the [hardest] working individual I have met. He is always trying hard, he is always showing up to practice, literally always, and doing the drills. He is a great guy, his work ethic is unreal."
People may wonder how Hobbs can keep his spirit up in the swimming pool every day since he also works at Starbucks and has school as his first priority.
"It comes with swimming, you have to have a different mindset than other sports," Hobbs said.  "It's a really tough sport. You are just looking at the bottom of the pool, going really hard for two to four hours a day. It takes a really positive mindset to compete in the sport and on top of that it is just a great group of guys so I can't be sad around them. They all push me to work my hardest. It's really the best team on campus."
Despite being just a sophomore, Hobbs has had experience in winning big events.
"Last year he won [the mile] against a senior when he was a freshman," Acampora said. "Going into the [competition] this year, my teammate and I [knew] that Jonah was going to train super hard to defend his title. We had no doubts that he was going to win it, we just did not know if he was going to go fast enough to make it to the nationals. Unfortunately, he did not, but he still won the event."
Hobbs said he looks forward to next year's competitions.
"The goal for next year is definitely Division III Nationals. I have been close to the selection both times, both this year and last year, but hopefully next year I will be able to make the cut," Hobbs said.
Dodd said they have been training hard since Sept. 14. The team's first practice of the day starts early in the morning from 5:30-7:30 a.m., and the second practice takes place in the afternoon, between 2-4 p.m. In addition to swimming in the afternoon, they also do weightlifting.
"It is a very difficult event because you can almost not train enough to swim a good mile," Dodd said. "The more you train, the more hours you have. If you can stay alive the better you can be. There are obviously limits being a student on how much you can train, so we try to train as smart as we can."
As if swimming twice a day and handling school work throughout the semester is not enough, the team also practices during breaks.
"During semester break we go double every single day," Dodd said. "[We practice] two and a half hours in the morning and two and a half hours at night, plus weights. It is pretty substantial time commitment."
Hobb's father taught him at an early age that he can't just flow through life. He once told Hobbs he can't give up or quit on people, and Hobbs seemed to have listened carefully.
"Never quitting," Hobbs said. "I don't miss practice, I don't miss weight sessions, I go to everything and I really give them my all when I am in the pool. I know that a lot of people are counting on me to be there. I just do my best to score as many points as I can for my team."
Lisa Hemmingson
Staff Writer
Published March 16th, 2016