Board of Regents to address 'unrest on campus'
The Board of Regents is hosting open forums on campus Friday Feb. 21 from 10:30 a.m. to noon for the California Lutheran University community to share concerns and ask questions of regents in response to two allegedly racist incidents.
"It's my desire that the [forums] really are open, I don't want the Board [of Regents] to go in with an agenda and guide those conversations," Susie Lundeen-Smuck Board of Regents chair said. "I want [students] to lead with their heart first–I think it's a mindset of constructive dialogue."
In an email to the Cal Lutheran community on Friday Feb. 14, Lundeen-Smuck reaffirmed President Chris Kimball's statement made Thursday during chapel hour that the university has reached out to Rise to Win, a nonprofit that offers diversity and inclusion workshops, working directly with athletics departments.
"I think there needs to be some action but we'd be foolish to kind of jump in and do something reactive versus again seek to understand: root cause, where is this coming from, is it intent is it misunderstanding or lack of education," Lundeen-Smuck said. "You've got to do the diagnosis before you start throwing and putting things in place."
According to the University website, the role of the Board of Regents is to direct the administration through its policy-making, authorize budgets, strategic plans, elect the president and approves appointment of faculty and chief administrative officers.
Lundeen-Smuck said the regents' regularly planned meetings were adapted to address the two racist incidents. 
"The times been where I've had to put more time into this [being a regent], merging with the seminary and another where we really wanted to make ourselves available was during borderline and the fires," Lundeen-Smuck said. "Those were peak times as a regent but I wouldn't characterize those as where we are today where there is some level of unrest on campus, I think this is maybe a first."
Each day has held dialogue, meetings, forums and programs aiming to stimulate institutional change on campus since Kimball sent an email to the Cal Lutheran community addressing the two allegedly racist incidents involving Cal Lutheran student-athletes last week.
"Look at us we literally walked out of class to be here and support and fight for racial justice here on our campus," Junior Associated Students of California Lutheran University Government Senator, Co-Vice President of Latin American Student Organization and President of Together WE Dream Karyme Lara Chagoya said. "I told you at chapel and I told you at BSU [Black Student Union]: the administration needs to do something. We literally have had BSU make statements, Sisters' Circle make statements and testimonies of students talking about experiences of racial discrimination on campus and now we're doing a walkout, I don't know what else you want us to do for you to understand that we don't want this on our campus and something needs to be done."
Members of Black Student Union, Sisters' Circle, ASCLUG, LASO, and TWD organized a school wide walkout Wednesday at 10:45 a.m. in response to the lack of action from administration they feel is happening. 
"I will continue to stand with you no matter what," Paloma Vargas, assistant professor of biology and director of Hispanic-Serving Institute Initiatives said during the walkout. "Until somebody drags me off this campus, I will be with you."
After making posters and sharing stories on the microphone at the flagpoles, the walkout proceeded to the Title IX coordinators' offices. Deputy Title IX coordinator Chris Paul addressed the walkout crowd outside her office and said she could not legally share any information about the student conduct investigations. 
The Echo was forwarded Paul's email sent to the team alleged of doing blackface on Monday, Feb. 10 at 12:18 p.m. which said "based on our review of this situation, we have determined that there will be no individual student conduct process related to the performances." 
Other faculty and staff members accompanied students and expressed their support during the various events throughout the week.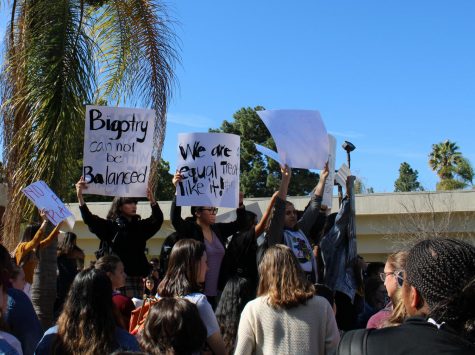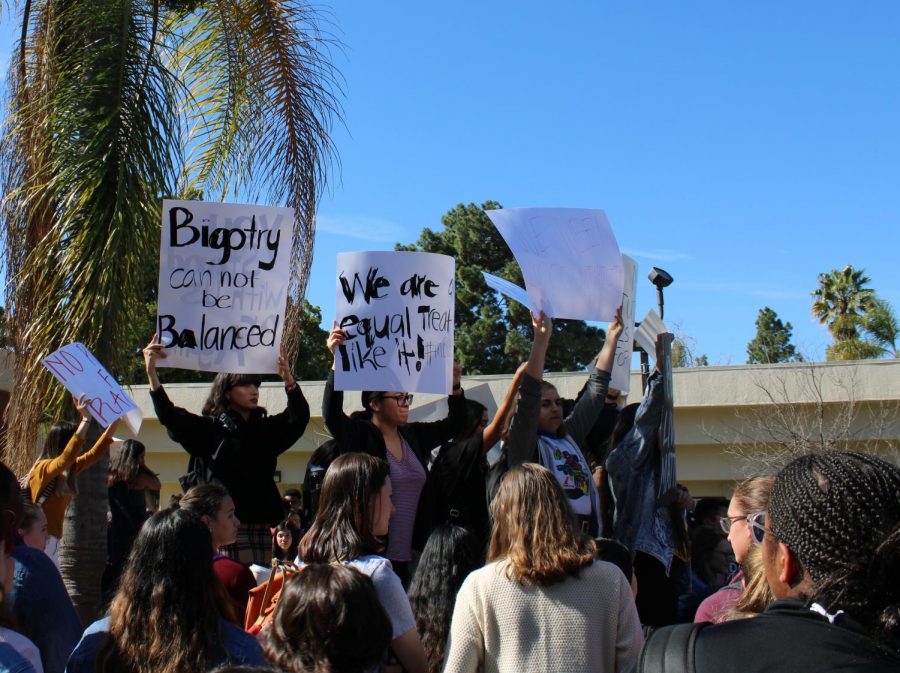 "I've been here 19 months and it has not been easy at all. You are the reason that I stayed here because we've got a lot of work to do and there is no way that any one of us can make the change that this institution needs," Vice President of University Advancement Regina Biddings-Muro said during the walkout. "I am tingling right now because of all of your faces, and your resolve, and just like always, the students, you lead the way."
Less than an hour before regular chapel service Thursday morning, Kimball arranged a campus meeting replacing chapel to address his Instagram post from 2014 which included a faculty member dressed as Bob Marley. 
"That was wrong," Kimball said during the meeting. "It's easy and appropriate and fine to make comparisons between my behavior and other things. I want to believe that in five years I would've learned a lot along the way that I wouldn't make that mistake again." 
During the meeting, a member of the team alleged of doing blackface spoke on behalf of the team. They said when receiving Kimball's email they immediately wrote a letter, "that we wanted to be sent out immediately because we knew the urgency of this, we knew the hurt this could cause and we felt something needed to be said. I want you all to know that we tried and we were suggested that we make sure what we were saying was the right thing and we listened because we trusted our athletic department and we trust our president and no one got back to us. I think it's important for everyone to know that… we tried and our voices were silenced."  
When asked what action will come from administration in response to these events during the meeting Thursday, Kimball said the university is tentatively looking into diversity, inclusion and equity training for the athletics department. 
BSU's weekly meeting Tuesday night was unlike typical meetings as L.A. Times reporters, faculty, staff, administration and students lined Nygreen 2 wall-to-wall eager to learn about featurism, the falsity of "reverse-racism", and students general feelings toward the situation and plans for change. 
BSU presented the results of their 'How Racist Are You?' survey which reported nearly a third of students who took the survey voted that they feel discomfort on campus after the incidents were announced. 
Faculty was dismissed around 8:30 p.m. where the conversation continued regarding a plan of action moving forward, including proposing diversity classes to replace the upper division religion requirement and continuing to approach faculty and organize meetings.
Prior to BSU's meeting, a forum Tuesday morning entitled "Building an Inclusive Community" was designed to be led by members of the Campus Inclusion Team but instead served as another platform to share student voices.
Tearful students shared their personal stories ranging from other acts of aggression they experienced prior to these two incidents surfacing, to their anger toward both the lack of support from administration and the number of students not participating in these events. 
A school-wide campus safety notification from Director of Campus Safety David Hilke sent Friday evening said an investigation of another racial slur on campus is underway. Wednesday Feb. 12 at noon, "it was discovered that someone etched a racial slur into a Trinity Hall elevator," Hilke said in the email. 
Those with information about the incident should contact Campus Safety.
"We're fed up, in the administration, we too cannot keep business as usual anymore," Biddings-Muro said. "We've gotta get out of the meetings and put our hand on the work, to make the hard decisions and to increase transparency."