D'Amore's Pizza is Feeding Thousand Oaks Healthcare Workers fighting COVID-19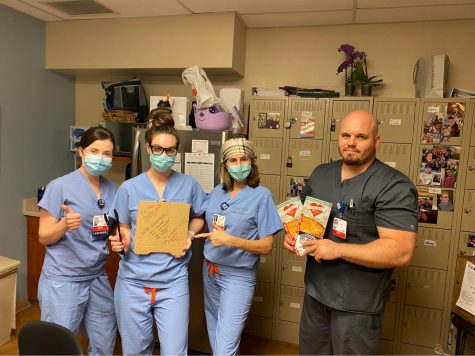 D'Amore's Pizza Restaurant in Thousand Oaks is supporting the community's fight against COVID-19, regularly delivering food to healthcare workers on the frontline of the pandemic at Los Robles Hospital.
"Everyone really appreciates it and it feels really good for them to be recognized. [The healthcare workers] are here all day long and they're trying to take care of everyone while everyone else is staying at home," Los Robles spokesperson Daphne Yousem said. "They really appreciate the community's kindness."
Some members of the California Lutheran University community have been sharing their support for the local pizza restaurant, hoping to keep them afloat while they provide meals to the healthcare workers that are keeping the community healthy. 
"Order online, no contact, awesome local family that owns it," Director of Congregational Relations, Desta Goehner said in a Facebook post. "They are feeding our community, those who need it and who are serving on the front line during this crisis. All of their food is awesome." 
D'Amore's is known for selling salads, sandwiches and pasta in addition to their specialty pizzas. Yousem said the healthcare workers are grateful for getting food due to their extremely busy shifts.
D'Amore's Thousand Oaks Owner Lea Maloney said her restaurant helps to provide two meals a day, about four days a week, to Los Robles healthcare workers in the respiratory, intensive care and emergency room units. 
Maloney said D'Amore's began deliveries at the beginning of March providing 10 jumbo pizzas and a few salads to the Los Robles healthcare staff. Their donations were well received and the healthcare workers were very appreciative, Maloney said.
Maloney, however, thought they could go further, and the VP of Employee Services at Los Robles helped facilitate the regular deliveries of customized meals for those working "seriously long shifts." 
"I started thinking about how we can help and who would need the most help," Maloney said. "It quickly came to mind that the healthcare workers needed to be taken well care of by the community so they can take care of our vulnerable sick people."
Maloney said D'Amore's packs individualized containers for each employee, including salads, bread and pasta dishes as well as pre-wrapped sandwiches.
Maloney said D'Amore's plans to continue delivering food, though they may need extra financial support in the effort.
"[The VP of Employee Services at Los Robles]  and I have been coordinating plans to continue delivering food. It quickly kind of became where I was like 'we're not doing super great as a restaurant as it is, but we're thankful to be open…how can we pay it forward, but can we also try to keep ourselves in business?'" Maloney said.
Maloney said the restaurant is working to garner sponsors to support their efforts to feed Thousand Oaks' healthcare workers on the frontline, as well as keep the restaurant afloat, the employees busy and on the payroll. 
The D'Amore's staff is maintaining social distancing practices, wearing masks and gloves at all times. 
D'Amore's implemented the no-contact rule about three weeks ago and they are not bringing in any new hires due to safety concerns for employee and customer health. 
D'Amore's is open for pickup and no-contact delivery from 11 a.m. until 9 p.m. daily.