Enrollment down 7%: Pandemic impacts 'students' choice to go to college'
Although California Lutheran University's undergraduate enrollment hit a record high of 2,930 in 2017 and informed projections of further growth—reaching 3,000 last fall, the pandemic has shifted the trajectory.
Maria Kohnke, associate provost of Academic Services and Registrar, said some students have decided to take leaves of absence or defer their enrollment until spring semester.
According to statistics provided by Matt Ward, vice president for Enrollment Management and Marketing and Cal Lutheran press releases, combined graduate and undergraduate enrollment is down from 4,303 in 2019 to about 4,020, or about 7%.
There are over 100 fewer incoming transfer and first-year students.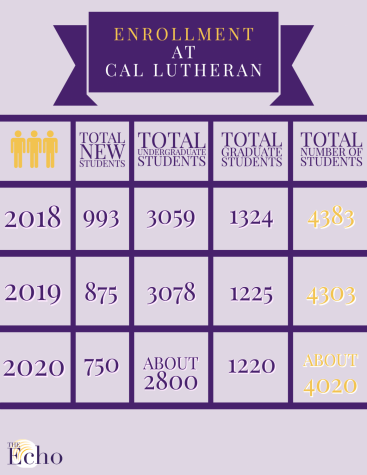 Kohnke said that California Lutheran University's leave of absence policy allows students to freeze their progress. 
"It's a conflict of wanting to be safe… but also really wanting a face-to face-experience," Kohnke said. 
According to Kohnke, students' health concerns, financial constraints and concerns about the virtual learning experience contributed to their decisions to learn remotely. 
In April, Ada Thuland, an international student from Norway, told The Echo that returning to Cal Lutheran during the pandemic didn't make financial sense.
"The Norwegian Krone is one of many currencies who are losing their value against USD because of this crisis," Thuland said. "That makes it more expensive for us than previously to go to a U.S. school… [and] no one should have to wake up in the middle of the night in order to stay on track for graduation, so I think [Cal Lutheran] should give leeway for international students."
Ward said Cal Lutheran's first year students' enrollment numbers are lower than the projected estimates that were made before the pandemic.
He also said that more than half of the Cal Lutheran students who are taking a leave of absence would be sophomores this year.
"If we're suspended in this environment for a long time then students' choice to go to college might be impacted," Ward said.
In a phone interview, Michael Elgarico, Dean of Undergraduate Admissions said that many new Cal Lutheran students had questions about online learning. 
"[Students] were not more concerned about how does it look on campus…but what's it going to be like in a more virtual environment," Elgarico said.