Ventura County considers COVID-19 in fire evacuation procedures
Ventura County has adapted its fire evacuation procedures amid the COVID-19 pandemic.
"We want people to know that if you are being told to evacuate during fire conditions, we want you to evacuate and the risk of a fire far outweighs your risk of COVID," Patrick Maynard, director of the Office of Emergency Services for Ventura County said in a phone interview.
Maynard said that in the years prior to the pandemic, his team would usher evacuees into congregate shelters.  These shelters would house large groups of people who had been displaced because of a fire.
"[We would put them in] a building that may have housed a couple hundred people. We can only house 60 people now, which becomes a challenge because we have a large population and only so much space to stand up shelters," Maynard said.
The Emergency Services team is now using temporary evacuation points where people can stay in their vehicle and be contacted by services such as the Red Cross to determine their needs, Maynard said.
Once evacuees' needs are evaluated, they are given a medical screening and COVID-19 test. Then they are sent to either a motel with a voucher to pay for their stay or a congregate shelter that is not filled to capacity to prevent the spread of the coronavirus.
"This gives us an opportunity to screen people and make sure that we are not sending sick people into a large population and to control the flow of people into the shelter," Maynard said.
Maynard added that there are designated motels that people can go to if they test positive for COVID. In these motels, individuals quarantine alone.
Maynard said that even with COVID creating an additional challenge, "we have good plans in place for this fire season and can handle whatever is thrown at us."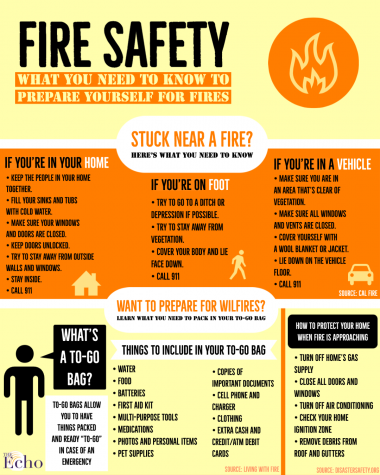 The most important thing that people can do to protect themselves during a potential evacuation is to listen to the evacuation warnings. Do not wait until the last minute when evacuation is mandatory, Maynard said.
Fire preparedness at Cal Lutheran
California Lutheran University has also factored COVID into their emergency planning.
In a phone interview, Ryan Van Ommeren, director of the Emergency Operations Center said "now we have to take into account social distancing guidelines and potential coronavirus spread."
Despite social distancing guidelines, Van Ommeren said that fire evacuations would actually be easier now than they were prior to the pandemic because fewer students are living on campus.
"We have typically had over 1,400 students in the residence halls and now I believe our number is 380 so obviously a number [that is] much more manageable," Van Ommeren said.
Cal Lutheran does have a partnership with the Red Cross to provide on-campus housing and shelter for the community. Van Ommeren said that they would provide students with shelter if need be.
He added that in the twenty years that he has been at Cal Lutheran, he has never had to initiate an evacuation of residential students.
In addition to the Red Cross, Van Ommeren said that Cal Lutheran also works closely with "senior members" of the Ventura County Fire Department.
"We ask students to remain alert and make sure they have signed up for our rave alerts," Van Ommeren said.
Rave alerts are an emergency notification system providing information about fires and other safety concerns to the students at Cal Lutheran. Students can sign up to receive emergency text alerts through myCLU under the 'CLU Alert' tab.