Community Service Center launches online service hub
The pandemic encouraged the Community Service Center at California Lutheran University to get creative in their efforts to keep students involved in service. This month, they launched CLU Serves, an online hub for community service opportunities.
"CLU Serves is an online portal that is accessible to all students and individuals with a Cal Lutheran email. This portal will allow students to keep an ongoing record of their service hours. So once they log on, they can input old hours and then continue to track their new hours," Melissa Dennin, Cal Lutheran junior and CSC intern, said in an email interview.
In a Zoom interview, Maddie Liberti, coordinator for community service, said the CSC has been working on many "different ways to share service projects, get people interested in volunteering in their community and just getting involved in general."
Liberti said the CSC's main goal is to meet students where their interests are. "What we really want from the interactions that students have with the community service center is a way to help them discover what their passions are so that each person really feels like serving their community isn't just a one time thing," Liberti said.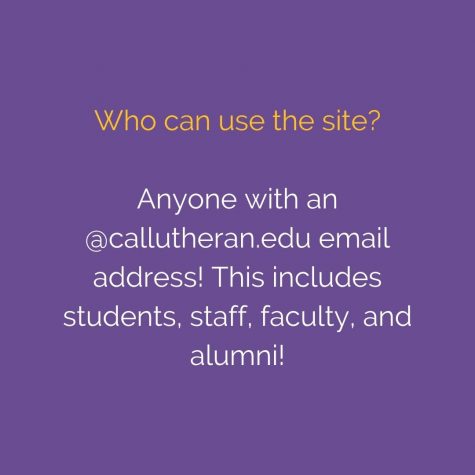 The Assistant Director of Student Life and Student Diversity Initiatives, Nicole Gonzales, said in an email interview that Liberti and the CSC aim to provide students the opportunity to complete service projects while still "on the go."
"We know it can sometimes be a challenge to prioritize giving back to our communities when we have so many things on our plates, so it is really important to find and let the CLU students know about the wide variety of opportunities that are available that also fit their schedule needs," Gonzales said.
Although the pandemic has limited in-person volunteering, Gonzales said there are still plenty of ways students can serve their communities.
"With our shift to being virtual, this was a great way to get opportunities out to CLU students. One might think that there aren't many ways or a need to be engaged in service right now, but there are actually a lot of orgs who we normally partner with asking for help. Many have even shifted to offering some virtual opportunities too, so this website allows students who are interested or need to complete service hours to look through a host of opportunities and then keep track of those hours all in one convenient place," Gonzales said in an email interview.
Just as other organizations such as Green Club are using technology to their advantage with programs like the Clean Swell app, the new CLU Serves website is available now for students to find volunteer opportunities.
"I really hope students can stop by the website and explore on their own. I see CLUserves being an invaluable resource for our campus community," Gonzales said.
To stay connected with the CSC and all future updates involving CLU Serves, be sure to follow @clustudentlife on Instagram.