California Dream Network shares immigration law updates with students, educators
The California Dream Network Statewide Call, a Zoom conference held on March 19, aimed to provide information that will help Deferred Action for Childhood Arrivals (DACA) recipients and other Development, Relief, and Education for Alien Minors (DREAM) Act students navigate recent policy changes.
Coalition for Humane Immigrant Rights of Los Angeles (CHIRLA) organized the online event, covering numerous topics including President Joe Biden's executive orders to allow for new DACA applicants for the first time since 2017 and a potential five-year path to citizenship for those currently going through the program.
"It's huge," said Cynthia Duarte, director of California Lutheran University's Center for Equality and Justice. "One of his [President Joe Biden's] top promises during his campaign."
According to CHIRLA's presentation during the Zoom call, Biden's plan includes an eight year track to citizenship for undocumented immigrants, a fast track to Lawful Permanent Residency for DACA recipients and agricultural workers, and allows those deported under the Trump administration to apply to come back if they were in the country for at least three years prior to their removal. His plan also includes changing the term "alien" to "non-citizen" in immigration law.
CHIRLA representatives also shared that DACA is accepting more applicants for the first time since 2017 and provided resources for legal support and filing taxes.
The call, attended by students, faculty and administrators from universities across the state, finished with a call to action.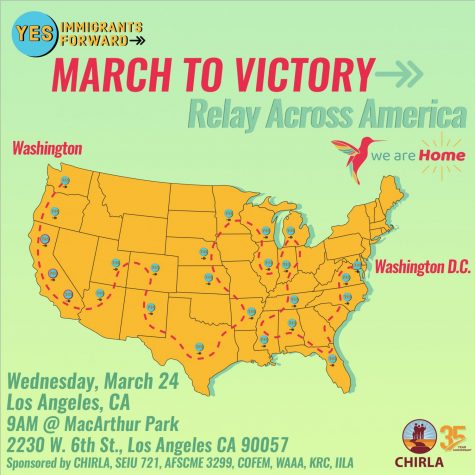 Participants were encouraged to join March To Victory: Relay Across America, a series of marches scheduled to take place across the country in aim to draw attention to the issue and push the government into allowing for DREAM Act students and other immigrants to more easily immigrate to the United States.
CHIRLA was first created in 1986 and now has a presence "at colleges across California that serve students, faculty and staff to ensure their rights and protections."
CHIRLA has worked with Cal Lutheran many times in the past, providing information that is relayed around campus.
"We've been in a relationship with them for several years," said Matt Ward, vice president for Enrollment Management and Student Success, in a Zoom interview. "They've worked with our students, have done know your rights workshops and been helpful in sharing information for students."