President and Provost Forum addresses WSCUC report
The President and Provost Forum held on Tuesday, March 21 addressed Western Association of Schools and Colleges Senior College & University Commision milestones, details, next steps and future efforts of California Lutheran University.
President Lori Varlotta began by addressing the attendees and giving them an overview of what was going to be discussed in the open forum.
The first section of the presentation was delivered by Taiwo Ande, associate provost for educational effectiveness and accreditation liaison officer. Ande went through key dates, including when the university was issued a formal notice of concern.
"When you have a re-accreditation visit, and you have that 10 years, typically you have a mid-cycle review…We had in December 2020," Ande said. "During that visit when they were in here to check how we are doing, we had a notice of concern issued."
Ande said the notice of concern means that if you do not pay attention to certain things, you risk "falling off" the accreditation. However, the notice of concern was removed on March 17, following WSCUC's visit to Cal Lutheran in September 2022. 
"That was our No. 1 goal, to get the notice of concern removed, and it has been removed immediately," Varlotta said. "That is something that we are very, very pleased about because, by far, that was the preeminent goal." 
During the forum, it was presented that progress made in diversity, equity, inclusion and justice, and related campus climate issues resulted in the removal of the formal notice of concern.
Ande also shared the commendations and recommendations that were issued by WSCUC. Some of the commendations in the letter were the "development of a campus wide DEIJ strategic plan" and the "development of structures and policies designed to address accountability for inappropriate behavior and conduct."
"Based on the action letter we just received, we are expected to submit a progress report by June 1st, 2023," Ande said. 
Ande said that the progress report will address the selection and planned implementation of the baseline climate survey, the completion of the faculty handbook and the approval of the DEIJ strategy plan, which Ande said has already occurred. 
"Many of the plans we are designing and implementing are ongoing ones. They are not the type of programs you do once and then presume are over. Hence, we expect to have action steps in place over the next year or so, and continue them for years to come," Varlotta and Leanne Neilson, provost and vice president for Academic Affairs, said in a follow-up email interview after the forum. 
Neilson went into the six areas of focus that were outlined in WSCUC's Action Letter in 2021, which the commission required Cal Lutheran to respond to.
"2020…it was a virtual review team visit, so they just met with them online. That was the time when they said we got six areas of some concern here that we want you to start looking into and we're going to come back in two years and see how you did," Neilson said. 
According to the action letter, the recommendations by the commission were to:
Further develop a campus-wide vision and strategy to promote and sustain a commitment to diversity, equity and inclusion.
Implement culturally sensitive pedagogical practices.
Clarify policies and processes that hold individuals on campus accountable for inappropriate behavior or conduct.

 

Expand information resources available to faculty and students to support academic offerings.

 

Provide more consistency in staff hiring processes.
Reevaluate the effectiveness of support services for graduate students.
"We do not foresee difficulties in addressing these recommendations. In fact, we have already made strides forward," Varlotta and Neilson said.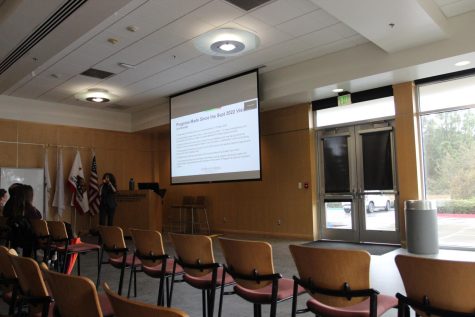 There was progress cited in each of the areas outlined, as well as efforts to continue or enhance in each area, too. WSCUC's report said that the Talent, Culture, and Diversity division was "one of the most impactful changes."
Varlotta presented the progress made, which includes improvements in areas such as transparency and a reduced vacancy rate to 4% in 2022 from 7% in 2021.
"We've also made extraordinary progress in other areas. Some of them related to DEIJ and some of them related to graduate program and reporting issues," Varlotta said. 
Varlotta said there will be a comprehensive assessment of the campus climate in the fall, using methods such as surveys, focus groups and interviews. Varlotta also said that there has been a narrative surrounding why staff have been leaving that she wanted to interpret using data.  
"85% of our folks that left in 2022 in the fourth quarter went through an exit interview. 100% of them said that they were either satisfied, very satisfied, or extremely satisfied with university-wide communication," Varlotta said. 
According to the presentation, Varlotta, Neilson and Ande will be meeting with the faculty senate on March 27 to discuss plans for addressing the issues raised in the WSCUC report, such as trust of senior leadership.
"Trust is a two-way street that begins with parties showing each other goodwill. The administration will do our part by 1) continuing to be honest, open, transparent, inclusive, and respectful in its interactions with faculty; 2) continuing to share timely, relevant, and accurate information with Faculty Senate, Faculty Assembly, and related committees; 3) continuing our pattern of keeping the entire campus informed via data-oriented and substantive Town Hall meetings, open forums, email updates, and more; 4) continuing to build relationships via lunches, social events, and the like," Varlotta and Neilson said. 
Varlotta and Neilson said that the administration's goals and hopes for the meetings with Faculty Senate, Staff Senate and Associated Students of California Lutheran University Government are to invite everyone who is interested in "coming together in productive ways to move the university to our next level of excellence." 
Grace Cornejo, Cal Lutheran alumna and chemistry lab technician for the Chemistry Department, said that the forum was good. 
"Outlining those points that they had that we need to improve on and not need to improve on was a good thing to do, and uploading all of that information onto a public website so that everybody can see…I think these were all good things to do in the sense of transparency," Cornejo said. 
Cornejo also said that there are a lot of things that the university is working on, but they have not had a lot of assessment as many of the measures implemented remain recent. 
"Once they do go in deeper and try and assess where we're improving and where we still need to improve…those will be more interesting forums because we'll have more data to kind of base on," Cornejo said.