CLU Model UN takes first award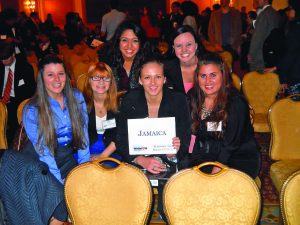 Eight CLU Model United Nations (MUN) delegates traveled to Boston, Mass., to compete at the Harvard National Model United Nations Conference and brought back California Lutheran University's first Harvard award.
The eight delegates who competed at Harvard are: Elisa Chavez, Katie Hemming, Thea Jerejian, Dani Lindamood, Kiera Murphy, Steven Oster, Henrik Simonsen and Lynzi Tarango.
At the event, they represented the country of Jamaica and were put into committees of one or two students to represent various social issues, including humanitarian efforts, energy, international security and the status of women.
This year was the first time that any CLU delegate was assigned the role of press correspondent. Hemming, an interdisciplinary studies major, took on the role and received the outstanding delegate award for her work as a mock press correspondent for Fox News.
"It was really exciting," said Hemming. "I'm really proud, especially because I wasn't really sure what to expect when I got there."
Hemming said there wasn't a lot of information on how to prepare to be a press correspondent, but she found her own way to study by watching "a lot" of Fox News and researching their beliefs on issues that could potentially come up during the conference.
"It was a lot of prepping," said Hemming. "How to give an interview, remembering my writing from my mass media class, how to write an opinion piece versus a news article and getting really excited and really nervous for talking to strangers and preparing to write a paper in less than two hours."
Murphy, the head delegate, said she was happy to not only have a delegate from CLU win an award, but was also thankful for what she learned from the overall experience.
"It is beyond an educational and life skill building experience," said Murphy. "It's a lot of fun."
Murphy said she enjoys working on world issues and being able to do so with students from all over the world was an enlightening experience.
"There are so many different things that you develop when you're a part of MUN, but one of the coolest things is being in such a positive environment, where for a weekend you get together with students from all around the world," said Murphy.
"You get to discuss the world's problems, but in a positive light in terms of finding a solution."
Political science professor and faculty advisor of the MUN class, Gregory Freeland, said he was happy that Hemming was the first student at CLU to win an award at the Harvard conference.
"If you won one award, you're certainly going to want to win some more," said Freeland.
He credits the performance of his delegates to their engagement and passion for the issues that were discussed throughout the weekend.
"Our head delegate was a very good cheerleader. She was very good at trying to get people fired up, excited and competitive, so part of it goes to her," said Freeland. "The other part goes to some of the students who are that way and who can get that way and put the time and effort into it."
Murphy said that they are looking for more students to take the Model UN class next fall. Students of all majors can take the class and will be eligible to compete at Harvard next spring. For questions or to request more information, contact Murphy at [email protected]
Mayra Ruiz
Staff Writer
Published March 20, 2013