Tim Hengst named dean of the College of Arts and Sciences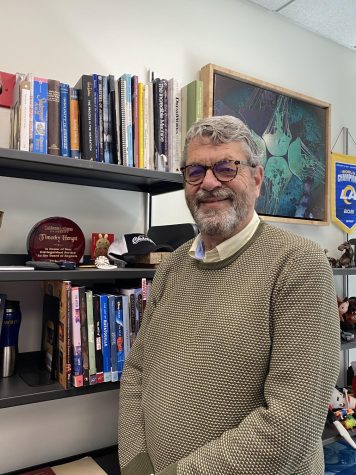 Interim Dean of the College of Arts and Sciences Tim Hengst is now dean of the College of Arts and Sciences for California Lutheran University and will continue this position until he retires in May 2025. 
Hengst, who served as interim dean of the College of Arts and Sciences from 2005 to 2007, said he thinks his experience with the position in the past was probably one of the main factors in making the selection to ask him to do it again. The Cal Lutheran alumnus said that he got quite a few letters of support from faculty that were excited to hear that he was staying for another year.
"I've always felt like teamwork was an important part of being successful. I like to involve other colleagues in decision-making, so I just felt like I could make a contribution and bring a sense of enjoyment to the campus," Hengst said.
Provost and Vice President for Academic Affairs Leanne Neilson said that after the previous dean, Jessica Lavariega Monforti, left in January 2022, instead of beginning a search for a new dean, she, with the faculty's input, decided to have Hengst as interim dean not just for the rest of the 2022 school year, but until spring of 2023. Neilson said the "overwhelmingly positive response" she received from faculty when she asked them about extending his time as interim dean last spring was a factor in her decision to remove the interim from the title, especially since when he is finished, he would hold the position for three and a half years.
Michael Hart, chair of the Faculty Senate and chair of the Music Department, said in a Zoom interview that he thinks it was a very good decision to appoint Hengst as dean, and that Hengst brings a lot of wealth of institutional knowledge to the position. 
"He was able to put in place structures that support the work that I do without being overbearing," Hart said. "I appreciate that he trusts department chairs to do the work we need to do. He knows when to step in. It's always been at the right moments where I actually needed either feedback or support on a particular issue."
Hart said that the upcoming general education curriculum revision has been worked on for many years, but it is under Hengst's leadership that IDEAS, which stands for inquire, develop, experience, adapt and serve, was finally able to pass through and be voted on by all the faculty in the College of Arts and Sciences.
"I'm glad that he is the dean right now because anytime you start anything new, there's always going to be unintended issues that might arise," Hart said. "I trust that he will help guide this process smoothly for the next several years until it can probably be more solidified."
Hengst said that he is excited to see how the IDEAS curriculum works out in the future for the general curriculum. In a follow-up email, he said that the acronym is still in development, but with this acronym, faculty, the Admissions Department, Registrar's Office, the Office of Educational Effectiveness and Institutional Research, the Office of Marketing & Communication and he hope to better describe what the general education model means for students. 
"Each of the words that come from the acronym will form a collective description of what student learning outcomes we hope all students will experience," Hengst said in a follow-up email. "Courses that are part of this model will have outcomes that address one or more of the 'IDEAS' descriptions, and collectively will meet the overall program goals."
Hengst said starting in the fall, Cal Lutheran will have an associate dean for each of the different departments in the Colleges of Arts and Sciences as well as interdisciplinary studies, the honors program and first-year experience. He said there might be another associate dean for special programs. 
Hart said he believes that Hengst's decision to restructure the college's associate deans will help the college run more efficiently.
"I think it'll help give more specialized attention to the different divisions because there'll be someone overseeing that area that has specific knowledge and interest in that division," Hengst said. "This also gives me the opportunity to divide up some of the responsibilities that I have among other qualified people."