The Rev. Melissa Maxwell-Doherty to retire this May
California Lutheran University's Vice President of Mission & Identity the Rev. Melissa Maxwell-Doherty will be retiring from her position in May 2023. 
"My husband has been retired for two years. I'm really looking forward to being together in retirement, as opposed to him being retired, and I'm working at the university, so, linking up our lives in that way. It comes time to have a change of pace," Melissa Maxwell-Doherty said.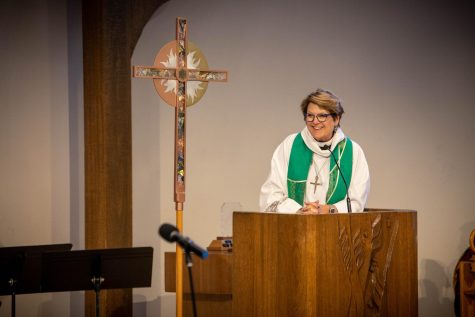 Melissa Maxwell-Doherty said that she and her husband, the Rev. Scott Maxwell-Doherty, returned to Cal Lutheran, their alma mater, because they were shaped by this community. Through her work at the university, Melissa Maxwell-Doherty said she was able to work with Food Share and volunteer in El Salvador with students and Habitat for Humanity after Hurricane Katrina. She said she also helped spearhead updates to the meditation chapel to be inclusive of people of many different faiths and build a labyrinth behind the Samuelson Chapel on campus for people's spiritual needs. 
"My favorite thing of all was to go gleaning," Melissa Maxwell-Doherty said. "In the Hebrew Bible, there's talk of God saying leave things in the field so that the poor among you can go out and gather food for themselves."
Melissa Maxwell-Doherty said she has enjoyed her work as pastor at Evangelical Lutheran Church of America and has been involved in the church since August of 1981.
"Women had been, I think, in the church body only about eight years. It was still a very new thing, to have a clergywoman as a part of your staff," Melissa Maxwell-Doherty said.
Wyant Morton, professor of music who has worked with Melissa Maxwell-Doherty during concerts, weekly chapel services and other events, said in a Zoom interview Melissa Maxwell-Doherty's sermons have shown her gift of language.
"She has an uncanny way of knowing what's in the minds of people and what their concerns are. I have always admired that thoughtfulness about her," Morton said. "That's one of the big things that I will miss."
Morton said that Melissa Maxwell-Doherty has a way of connecting with people in a very honest and genuine kind of way. 
"She has always been a great colleague and friend so I'm sad to see her retire, but I'm also very happy for her," Morton said. 
Andrew Castro, assistant director for Residence Life and Student Conduct, said in an email interview Melissa and Scott Maxwell-Doherty helped him feel like Cal Lutheran was a safe place. 
"I struggled to feel like I belonged as a member of the Cal Lutheran community when I was in undergrad, but [they] always took the time to check in on me whenever they saw me around campus," Castro said. "Whenever I shared a bit of good news, they would cheer me on and that just felt so amazing."
Castro said, while at the university for his bachelor's degree, he went on a service trip with Melissa Maxwell-Doherty to assist with Hurricane Sandy relief in the summer of 2013. 
"We worked on the same home together throughout that week, and it was so incredible to see her interactions with the homeowner as well as other folks during that time," Castro said. "Melissa has a way of making everyone feel seen, heard, and loved."
Castro said, as a graduate student, he and Melissa Maxwell-Doherty served together on the Board of Regents together.
"Melissa's goal has always been to find ways to make Cal Lutheran a welcoming community by supporting systemic changes that better serve our students," Castro said. "Melissa is always the first to ask, 'How do you think we can improve?' and she truly listens to the feedback."
Morton said that he hopes that whoever takes over the position of vice president of Mission & Identity will be somebody who has the same spirit as Melissa does in being open, inclusive and welcoming of all people.
"She may not even know, herself, the huge kind of impact that she's had on a lot of young people," Morton said.