Dr. Sadhwani transitions into new chapter, leaves deep impact on students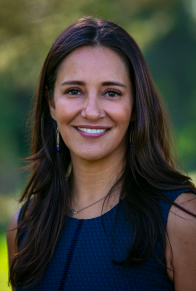 Sara Sadhwani, assistant professor of Political Science, is moving on to teach at Pomona College, but in her short stint at California Lutheran University, she has made a lasting impression.
"The way she made me feel in class, the fact of knowing that I am capable of understanding politics, was one of the most empowering and fulfilling emotions I've ever felt," first-year Jordan Stark said. "She's one of the best professors I've ever had in my life and I am beyond thankful that I had her class."
Sadhwani said she loved having the opportunity to work with "a diverse array of students from different backgrounds," when she started her career at Cal Lutheran in the fall semester. She added that her passion for political science in conjunction with Cal Lutheran's small class sizes has allowed for lively in-class discussion. 
"We cover a lot of hot topics–immigration, same-sex bathroom legislation, voting rights, Black Lives Matter and women in public office–as well as timely discussions about [connecting] Watergate, [with] the current impeachment and the decay of democratic institutions. I've enjoyed teaching and discussing this with bright minds!" Sadhwani said in an email interview.
Sadhwani taught theory and practice in American government, an introductory American politics course, and scope and methods, the political science major statistics requirement. She rounded out spring semester teaching American political institutions. 
Sadhwani's short time here will leave a long-lasting impact on how students engage in their courses. 
"All my life whenever I was sitting in my government [or] politics classes in high school or my family was talking about political current events at dinner, I always felt less intelligent than whoever I was talking to because I just never understood what they were talking about," Stark said. "[This] led me to believe and accept the fact that my mind was not 'politically wired' and I was destined to never understand my government or know what was going on in my country."
Stark felt hopeless that he would never truly understand the politics and issues of America. This all changed after taking one of Sadhwani's classes.
When she's not teaching, Sadhwani is an advisor for Pre-Law students, and really helped support those interested in politics.
"She is an amazing professor. She cares a lot about her students, and we will all miss her very much," senior Angelica Pintado said. "Dr. Sadhwani has impacted me by encouraging me to pursue my passions within the political science field."
This is Sadhwani's last semester before transitioning over to Pomona College, which is closer to her home and family. She said she is also planning to devote more time to work on her research and book she is writing.
Sadhwani said she would like to leave one last message as she prepares to say farewell. 
"Don't worry so much about grades. Focus on the substance of what you are learning and how it will stay with you and inform your understanding of the world long after you are a college student," she said. "Our society will need strong leadership from your generation – sooner rather than later. Think of your time at Cal Lutheran as preparation for those challenges."