20% revenue shortfall due to COVID-19 will lead to more furloughs and layoffs
The entire California Lutheran University cabinet is working six days a week to address university budget shortfalls, President Lori Varlotta announced during the Sept. 23 Operational Update webinar.
"Unfortunately holiday forfeiture is not enough. We don't have enough people [in] the cabinet to get the work done in a typical work week," Varlotta said.
Cal Lutheran is experiencing a 20% revenue shortfall — about $23 million — according to Karen Davis, vice president for Administration & Finance. Davis said the overall projected revenue budget for 2020-21 was approximately $120 million.
Students make up over 75% of the university's revenue stream and this year Cal Lutheran's traditional undergraduate enrollment is at a ten year low, said Matt Ward, vice president for Enrollment Management and Marketing.
"This is the first time in over a decade that we fell below 4,000 students," Ward said.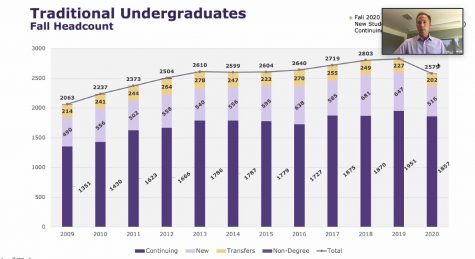 Other factors in the university's shortfall include residential students sitting at about 26% of the university's goal of 1,472. Residential capacity was affected in part by county and state COVID-19 health guidelines; some students interested in living on campus had to be turned away, Davis said.
In addition to the cabinet putting in what Varlotta said are "extraordinary hours" to develop spending reduction strategies, the Board of Regents have already approved the university's use of last year's surplus of $2.8 million.
Other strategies include furloughs, layoffs and eliminating Cal Lutheran's retirement contributions.
Varlotta said that there will be more furloughs than layoffs. University employees will maintain benefits and nobody will be furloughed for more than 25% of their time.
Varlotta also addressed the POC Collective letter that was sent to her, the cabinet and Board of Regents Friday, Sept. 18. She said she has already responded to the letter and she needs to talk to the cabinet and other groups on campus to have a better understanding of the context.
"I would be a fool if I thought I could come in and create policy and work with a small group to get those policies [addressed in the POC letter] done in my first four weeks amidst a global pandemic and a 20% shortfall in revenue," Varlotta said.