Outdoor classes reopening after windstorm repairs, stay at home order lifted
California Lutheran University has aimed to keep the Thousand Oaks campus as operational as public health restrictions permit over the course of the pandemic. The university first began utilizing outdoor classrooms during the fall 2020 semester and plans to reopen them for classes as soon as Feb. 16.
"The number one request I used to get pre-pandemic was 'can we have class outside?'" said Senior Lecturer in the School of Management Michael Panesis in a Zoom interview. 
Seven additional outdoor classrooms have been erected for the spring semester, bringing the total number of outdoor classrooms to 10, said Lance Grange, associate director of Information Technology, in an email interview.
The equipment in the outdoor classrooms include "Owl Systems", 360-degree cameras which allow students who can't attend in-person to participate and a whiteboard reader camera.
The classrooms were slated to reopen as soon as the stay-at-home order was lifted, but a mid-January windstorm caused significant damage to the equipment and their reopening depended on repairs.
The windstorm that affected most of Ventura County during the week of Jan. 18 hit campus hard, damaging several buildings and trees, along with equipment in the outdoor classrooms.
Olivia Becker, Copy Editor
"I heard that the gym–ones they were using for fitness–was a complete loss, and it was totally destroyed, and the rest are being repaired." Panesis said. "They had the things attached to these huge concrete blocks, and it all went up in the air."
The outdoor tents' large cement block anchors had been flung around during the storm, damaging several bits of equipment.
"Five of them had some level of damage… actually had structural pieces get twisted or bent that needed to be replaced and then had different degrees of sides blowing off and are kinda whiteboard structures kinda tearing itself off from the anchors," Van Ommeren said.
The Information Technology Services (ITS) team has had to repair whiteboard equipment.
"During the wind event, ITS team members removed as much equipment as possible to prevent damage. Unfortunately, some equipment supporting the whiteboard was damaged and is being replaced," Grange said.
Gov. Gavin Newsom lifted the stay at home order on Jan. 25 causing many businesses including the university to launch into reopening.
"Nobody expected that we'd be able to go back so quickly." Panesis said. "There's only so many of those big tents available and every school and every restaurant in Ventura wants them."
The outdoor classrooms were considered generally successful during the fall semester by students and faculty.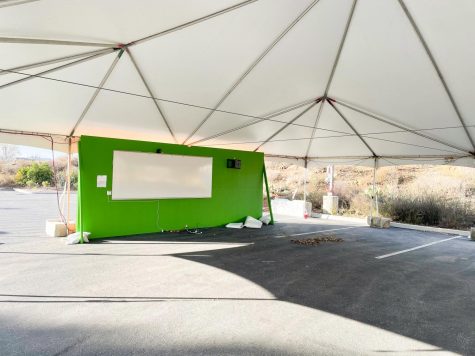 The setup of the classrooms worked without issue, being considered easy to use by many professors, Ryan Van Ommeren, associate Vice President of Facilities Planning and Operations said in a phone interview.
In addition to signage encouraging students to socially distance, the Cal Lutheran Compact requires social distancing and the use of face coverings in aim to keep students and faculty safe.
"They put big X's and painter's tape on the tables where you weren't supposed to sit. Everyone was good about wearing a mask," Panesis said.
There were some hiccups in teaching both an online and in-person class at the same time, despite the primarily positive feedback. 
Grange said some faculty have requested for additional modalities that may help them better see online learners while standing at the front of the classroom space.
While some students returned to campus in the fall, many others remained fully virtual, attending classes on Zoom.
"Most of [my] students still participated by Zoom… about a third of students were in person," Panesis said.
Several cold windy days also led to fewer students attending outdoor class.
"It's hard to heat under those tents, once it gets too miserable, nobody comes," Panesis said.
For the students that have been able to attend outdoor classes, Van Ommeren said the experience has been mostly positive.
"The feedback I heard was positive," Van Ommeren said. "The technology worked, the spacing worked and the students who were there were engaged."