'Escapism' shares art seniors' creative release during the pandemic
The William Rolland Gallery of Fine Art is hosting the 2021 senior art exhibition, virtually. "Escapism", this year's exhibition theme, was developed by the Art department's graduating class of five who independently created the various works featured in it.
"Almost immediately we thought of escapism because we all found this common connection where we liked using our art as a way to find solace during the pandemic," senior art and communication major Lauren Graf said in a phone interview. " The overall theme came pretty quickly, but once we had it established people were able to explore what escapism meant for them."
The artists, Graf, Nicholas Hayes, Jasmine Alexandra and Nicole Ishii, discussed their works in detail during a virtual panel held on April 23. One of the graduating artists, Jiarong Bi, was not able to make it to the talk, so she presented her work through a pre-recorded video found on the gallery's website.
The art in the exhibit features a variety of mediums, some of which the artists specialize in.
Hayes demonstrated his passion for sculpting by sharing his collection of polymer clay sculptures with the audience. During the talk, Hayes said his inspiration for his work, "Fatal Mistake," came from his grandmother's lived experience–escaping Hiroshima, Japan during World War II a week before it was bombed.
Hayes said in a phone interview that the style of his sculptures derives from his taste for fantasy and he decided to produce works he felt were sophisticated enough for the show, noting that he would have taken another creative route if not for the theme.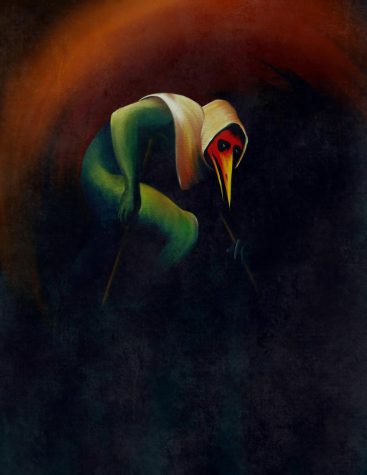 "I have so much respect for people who put social or political messages in their art, and I love activism art, but I personally don't make it. If I'm working on something and I stop having fun then I just give up and start something new. I fully have embraced the idea of escapism when it comes to art in that way," Hayes said.
Alexandra said art has the power to alter people's previously held beliefs and their understanding of mythology and fantasy. During the talk, she presented her works of varying mediums, from a sculpture to oil paintings and digital media creations. She said creating her work, "Medusa the Goddess," was a way for her to reinvent this character who is misrepresented as a monster.
"I felt a sense of anger that this was a legend that keeps going forth and she's still painted as a monster while in my mind she was a survivor and she was trying to strive and ends up being one of the most tragic creatures who ends up being villainized," Alexandra said in a phone interview. "I wanted that power to change that motif, and that's why I changed her into Medusa the Goddess and the protector."
"If you notice in the people in the background, the sense of fear of the people in the past that she's guarding. She's looking straight, she's not afraid, she's not ashamed of her body either, she stands for the victims and has strength for that. I wanted to reinvent the legend into something much more powerful, something that can be a hero to those that need it the most," Alexandra said, describing her piece "Medusa the Goddess."
Alexandra was also the only other artist besides Hayes to feature a sculpture among her works, which is a clay bust entitled "Dragon Queen."
Graf enrolled at Cal Lutheran as a communication major, later deciding to double major in art during her first year. Her works separate into her watercolor and colored pencil collection and acrylic paintings.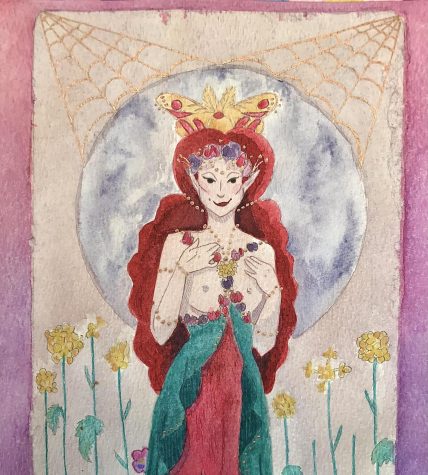 Connecting her art to the theme of escapism, Graf said storytelling is the central theme of her paintings, as plays, books and movies were her way of escaping during the pandemic.
"The way that I interpreted the escapism theme is seeing the way that I was escaping during the pandemic and that was through art and through stories. When I was thinking about my pieces I was trying to think about stories that were helping me to escape," Graf said.
Ishii's art depicts scenes from nature and aims to educate her audience about her people authentically. Ishii, who graduated from Cal Lutheran in December, was born in Hawaii and said that the theme for her gallery is 'Malama 'Aina,' which translates to "caring for the land."
"I've recently begun an art Instagram. Now Instagram is a lot more activist-y, I'm seeing a lot more people reposting posts about all of this different activism art and I was just hoping to get into that so that more people can see that the Hawaiian culture is way more than Waikiki and the colonist view of seeing Hawaii," Ishii said.
Jiarong Bi, or Ivy, said in her personal panel that she expresses herself through her oil painting and explores personal themes of the human psyche.
"For me, escapism through art was expressing emotion through human feelings and capturing universal understanding," Bi said.
Curator of collections and exhibitions for the William Rolland Gallery of Fine Art, Rachel Schmid said in a phone interview that the online exhibition will still be up by the time that the public will be allowed to personally visit the gallery.
"We anticipate that within the next year that we will host this exhibit in person, so we want the digital version to be up while we have the physical version in the gallery. Both the class of 2020, because they didn't get an exhibit, and the class of 2021 will both be putting their exhibits up within the next year," Schmid said.